Since 1990, we've worked to increase appreciation and stewardship of Sonoma Valley's natural heritage and create measurable benefits in areas of land, water, climate change and biodiversity. More than ever, Sonoma Ecology Center needs your support to move us all towards a better future.
Who We Are
Sonoma Ecology Center works to address challenges related to water supply and quality, open space, rural character, biodiversity, energy, climate change, and a better quality of life for all residents.
Vision
We envision a future where people, land, water, and wildlife thrive.
Mission
Our mission is to work with our community to identify and lead actions that achieve and sustain ecological health in Sonoma Valley.
How can people, land, water, and wildlife thrive in a fire-adapted landscape?
Watch this video on how we keep people safer while supporting our environment.
Sep
17
Fri
Yoga y bienestar en Sonoma Garden Park en español

@ Sonoma Garden Park
Sep 17 @ 6:00 pm – 7:00 pm
Yoga y bienestar en Sonoma Garden Park en español
Desconecta del estrés y conecta con tu interior. En este programa aprenderás movimientos y herramientas simples y efectivas para relajarte, rejuvenecerte y cultivar tu bienestar físico, mental y emocional.
Comienzo: Viernes Septiembre 3:00pm a las 6:00pm
Duración: 6 semanas
Localidad: Sonoma Garden Park, Sonoma CA
¡Inscribete hoy! ivana@sonomaecologycenter.org o llama al 707 484 8440  Espacios limitados
Este es un programa gratuito patrocinado por el distrito Ag + Open Space del condado de Sonoma. Sonoma Garden Park es un terreno protegido a través de Ag + Open Space 
Yoga and wellness at Sonoma Garden Park in Spanish
Disconnect from stress and speed. Connect with your interior and experience well-being. In this course, you'll learn simple and effective exercises to rejuvenate and feel comfort in your body and mind. You will take home inspiration to use every day and cultivate your physical, mental, and emotional well-being. These classes are free!
Start: Friday, September 3 at 6 PM
Location: Sonoma Garden Park, 19996 7th street east, Sonoma CA
Duration: 6 weeks
Sign up today! ivana@sonomaecologycenter.org or call 707 484 8440 Limited spaces
This is a free event sponsored by the Sonoma County Ag + Open Space District. Sonoma Garden Park is protected land through the Ag + Open Space.
Sep
18
Sat
Coastal Creek Clean-Up Day

@ Larson Park and Agua Caliente Bridge
Sep 18 @ 10:00 am – 1:00 pm
Join Sonoma Ecology Center for creek clean-ups on Saturday, September 18, from 10:00am – 1:00pm.
Saturday, September 18, 10:00am – 1:00pm
Meeting Location: Specific to the cleanup site.

Larson Park Creek Clean-Up: Meeting Site
Agua Caliente Bridge Creek Clean-Up: Meeting Site
Glen Ellen Calabasa Creek: Meeting Site
Wear clothing and sturdy close-toed boots or shoes. Bring water, a hat, sunscreen, sunglasses, and gloves (optional) if you have them. Light refreshments will be provided.
Grabbers, trash bags, buckets, and some gloves will be provided.
Signup to volunteer at
Download the Clean Swell App. Under the "Company" type Sonoma Ecology Center
Covid Protocols: We follow Sonoma County Covid-19 protocols and recommendations. Masks are required when you are in proximity to others (within 6') and recommended by not required when you are practicing social distancing.
This event is a part of Coastal Clean-Up Day. Individual creek clean-ups are welcome to bring your trash and debris to Larson Park where we will help you dispose of the debris properly.
To find a Coastal Clean-Up near you, please visit https://www.coastal.ca.gov/publiced/ccd/ccd.html#map.
Thank you to our funders: Sonoma County Community Initiatives Fund, District 1
Thank you to our partners: Recology, Sonoma Valley Rotary, Good Riddance Hauling
Thank you for your donations: Starbucks Maxwell Village Grateful Bagel
Creekside Nature Hike

@ Sugarloaf Ridge State Park
Sep 18 @ 10:00 am – 11:30 am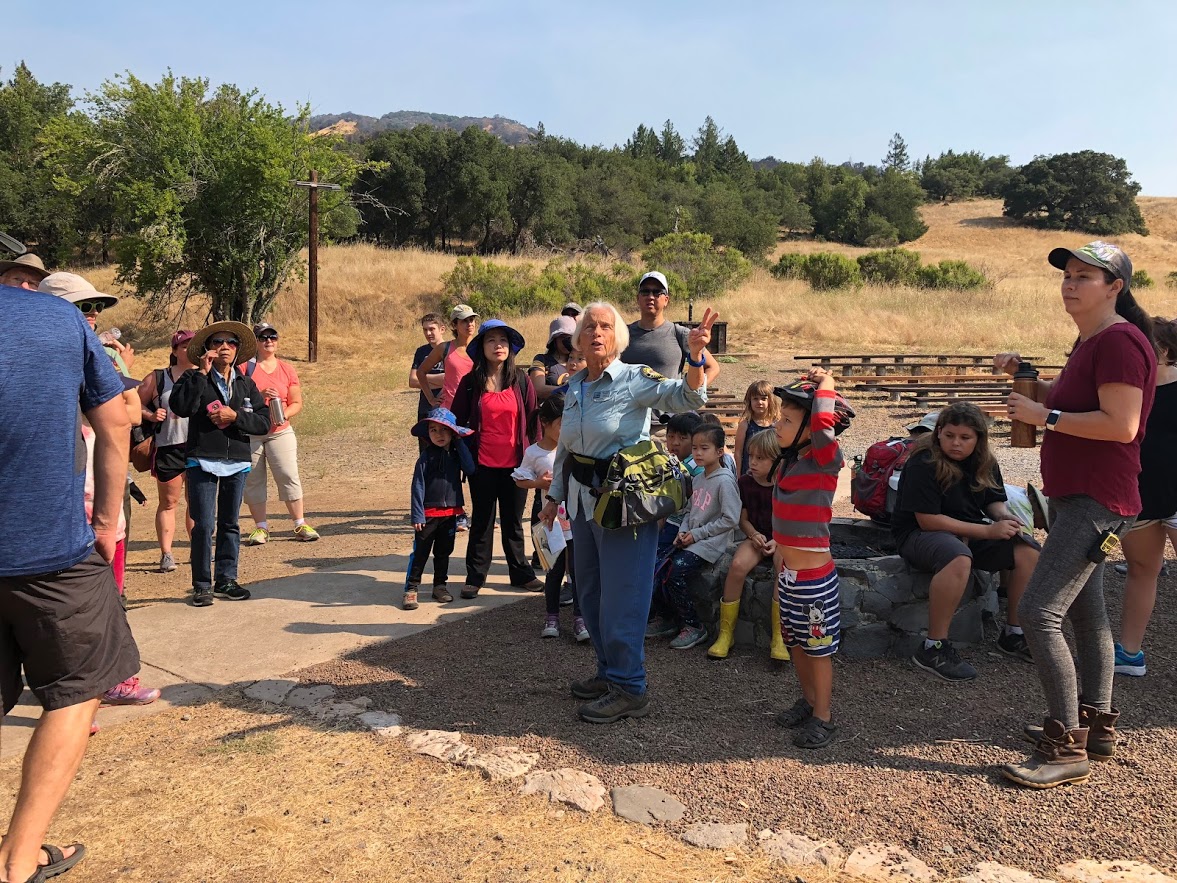 Join us for a 1.4-mile nature hike along the Sonoma Creek. On the hike your leader will teach you about the plants, animals, and aquatic life of Sonoma Creek. The hike starts outside the Visitor Center. Free. As of June 15, RSVP is not needed. Parking charges apply.
Senderos: Caminata por la naturaleza

@ Sugarloaf Ridge State Park
Sep 18 @ 10:00 am – 11:30 am
Sábado 18 de septiembre, 10-11:30am
¡Venga a conocer su parque! El Parque Estatal Sugarloaf Ridge le invita a su familia a una caminata serena por la naturaleza de aproximadamente tres millas. Nos reuniremos en el área del granero blanco y recorreremos los senderos Hillside y Meadow, donde aprenderemos acerca de la historia natural del parque, incluyendo ecosistemas, antropología, e historia. Le invitamos a traer un almuerzo para disfrutar después de la caminata, al igualmente que agua, zapatos cómodos, y protector solar, o una gorra. Esté preparado para seguir órdenes de salud del Condado como el uso de cubrebocas y el distanciamiento personal.
Este evento y el estacionamiento son gratuitos pero requiere registración. Si necesita transportación o tiene preguntas, contacte a Alma (alma@sonomaecologycenter.org).
Este evento es respaldado por Route to Parks, una beca de Parks California.
Sep
20
Mon
Full Moon Hike

@ Sugarloaf Ridge State Park
Sep 20 @ 5:00 pm – 9:15 pm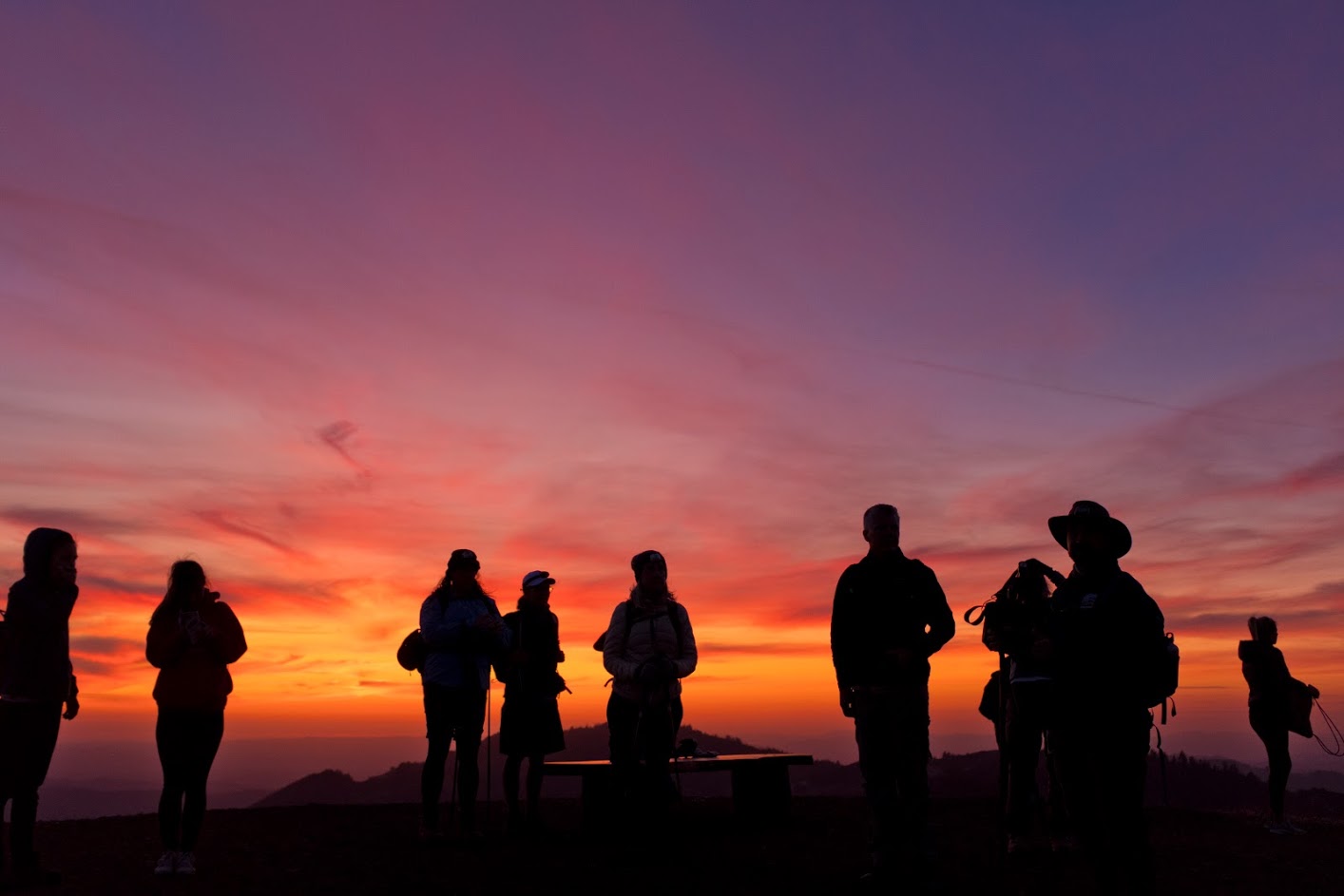 Bring a flashlight and your sense of wonder as you explore the park after dark. This hike begins at the White Barn and heads up either to Bald Mountain or to the viewpoint on Vista Trail, where we will see the moon rise over the Mayacamas and the sun set over Sonoma Valley.
The Bald Mountain route via Grey Pine is strenuous, covering 6.5 miles with 1500+ of vertical with some steep sections. The final route will be decided by the hike leader. It leaves the White Barn parking lot at 5pm. This route is not recommended for minors under 12.
The Vista Trail route is a moderate-to-strenuous 4-mile hike with 700ft of elevation and begins at 6pm.
Tickets are $10 for adults or $5 for minors plus a $10 parking fee. Be at the meeting location at least 15 minutes prior to the start of the hike for a prompt departure. Bring water, snacks, and extra layers for the evening.
PROJECT MAP
An interactive map of our work in Sonoma Valley.