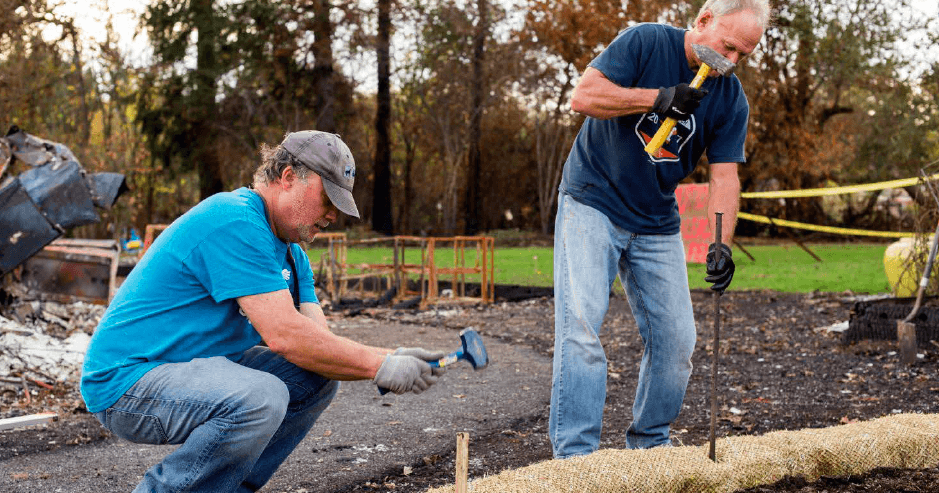 Glass Fire Watershed Protection Program
In response to widespread damage caused by the Glass Fire, Sonoma Ecology Center is relaunching its Watershed Protection Program in order to keep toxins from burned structures out of local waterways.
The wildfires of October 2017 left behind dozens of burned structures near local waterways. The ash and debris of burned structures contains deadly toxins such as heavy metals, asbestos and nitrates, and is a potential source of pollution should rainwater wash it into streams.
In response to this threat, Sonoma Ecology Center created its Emergency Watershed Protection Program, which starts by using GIS data to map and prioritize burned sites. We then reach out to landowners of burned sites, mobilize volunteers, organize them into crews, and lead them in isolating the ash and debris at those sites until authorities can dispose of it.
With dozens more burned structures left behind by the Glass Fire, Sonoma Ecology Center is relaunching this program to protect the watersheds of Sonoma Creek, Santa Rosa Creek and Mark West Creek. (Note: although time is of the essence, we should have weeks before stormwater is strong enough to move pollutants from burned structures into our waterways. Please know that we are working closely with Sonoma County officials and other partners and intend to make sure every burned site is addressed by then, starting with those most at risk of affecting streams.)
Volunteering
Wattles act as filters, holding back the toxic ash and debris of burned structures while the water flows through. If rains arrive before all toxic burn sites are fully remediated, those wattles will go far in keeping pollutants out of our watershed.
A big part of the Glass Fire Watershed Protection Plan is organizing volunteers to help us put down wattles and perform other tasks ahead of the oncoming rains. If you would like to join us as a volunteer, we are looking for help in several ways as we mobilize once again for the sake of our water, land and community.
Those ways include:
Staffing and managing material staging areas. At these sites, volunteers fill sandbags and load vehicles with sandbags and wattles for use at high-priority locations.
Placing materials at structures. Groups of volunteers place sandbags and wattles downhill of burned structures at prioritized sites, working under the supervision of a trained team leader.
Contacting landowners. Our volunteers are reaching out to all Sonoma Valley landowners with burned properties near waterways. Our goal is to have them sign our permission forms and allow access so that we can help secure the site.
Please note that we are halting volunteer intake at this time as the program is wrapping up. Thank you to all our wonderful volunteers and Sonoma Valley community!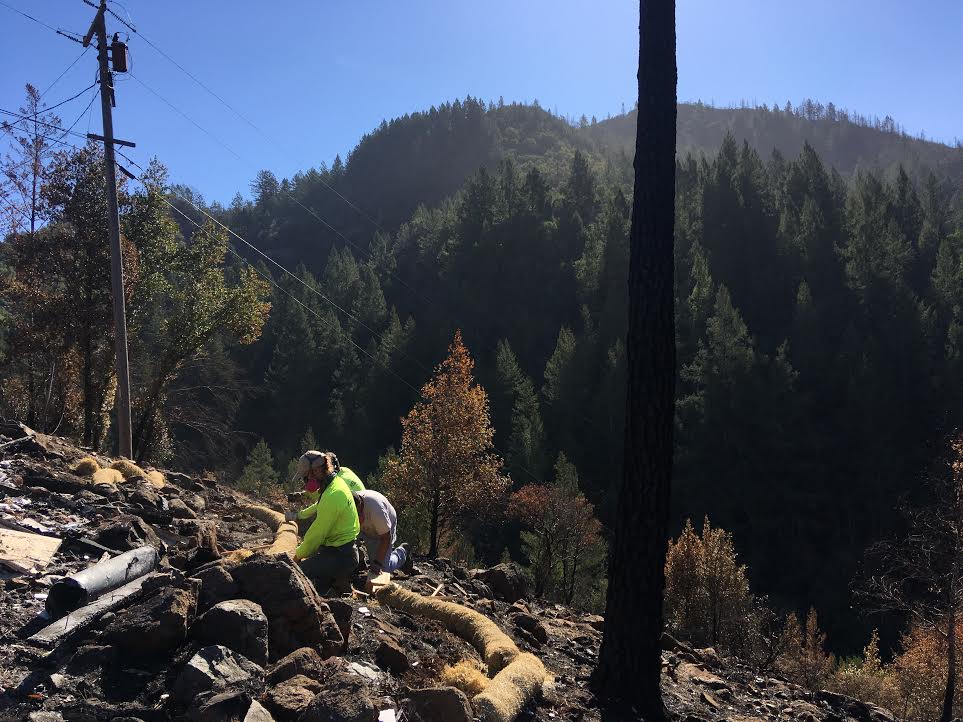 FIRE RECOVERY TIPS
The above links to our Fire Recovery Page provide expert advice on how to respond to burned landscapes.
DONATE
We couldn't do it without your help! Please click the button below to support Sonoma Ecology Center.