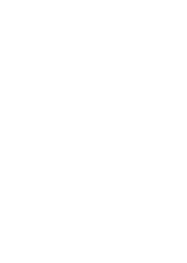 Since 1990, we've worked to increase appreciation and stewardship of Sonoma Valley's natural heritage and create measurable benefits in areas of land, water, climate change and biodiversity. Supporting our work enables us to move us all towards a better future.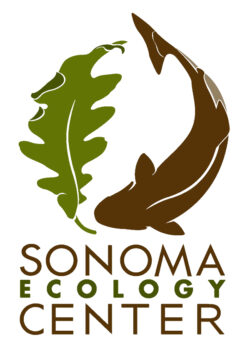 Who We Are
Sonoma Ecology Center works to address challenges related to water supply and quality, open space, rural character, biodiversity, energy, climate change, and a better quality of life for all residents.
Vision
We envision a future where people, land, water, and wildlife thrive.
Mission
Our mission is to work with our community to identify and lead actions that achieve and sustain ecological health in Sonoma Valley.
How can people, land, water, and wildlife thrive in a fire-adapted landscape?
Watch this video on how we keep people safer while supporting our environment.
Feb
1
Wed
First Day of Black History Month
Observance
To hide observances, go to Google Calendar Settings > Holidays in United States
Feb
4
Sat
ParkRx – Beginning Hiking for Fitness Series

@ Sugarloaf Ridge State Park
Feb 4 @ 9:00 am – 1:00 pm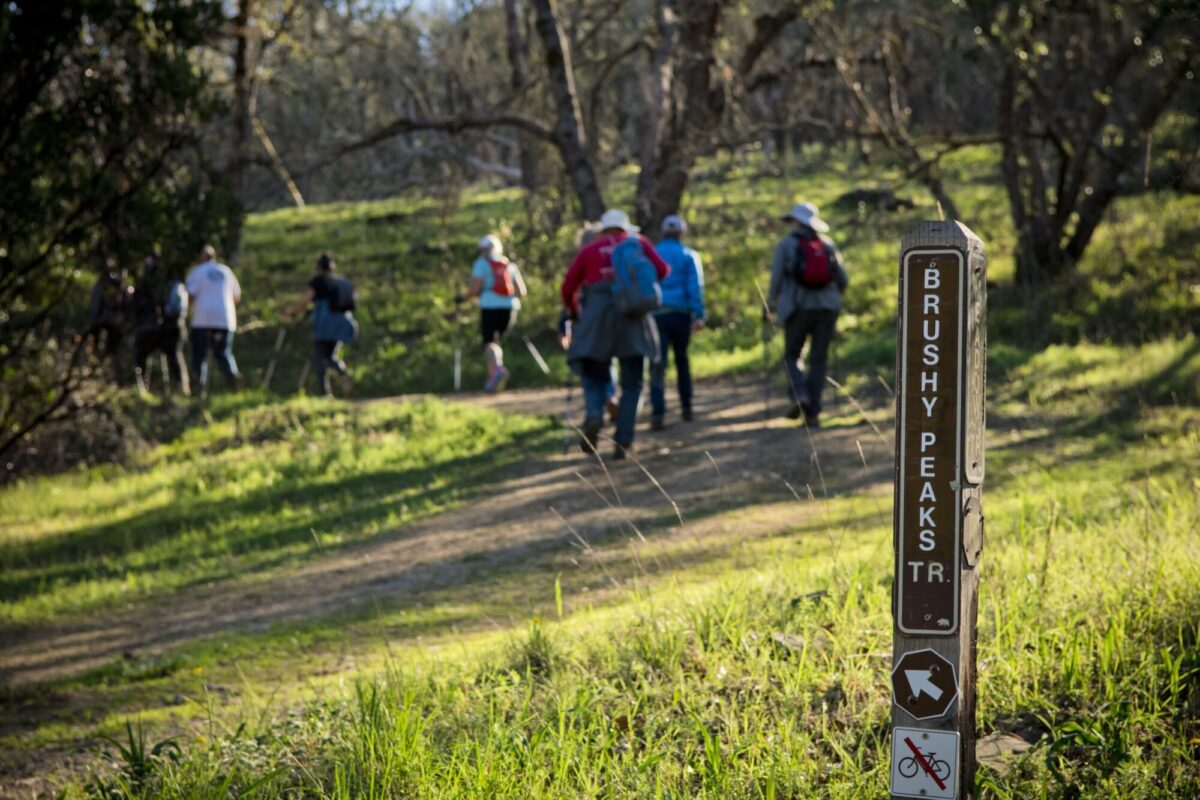 The Hiking for Fitness Series is back! Join us for the Beginner Hiking for Fitness program, where the leaders will guide you on a series of 8 weekly hikes with the challenge increasing each week. Before the first hike, the leader will discuss proper shoes, hydration, incorporating hiking poles, proper pacing, etc. The group's final hike aims for the long route up Vista Trail, where hikers can enjoy the beautiful vistas.
The following is a list of possible routes specifically selected for this hiking series:
1) Sat 1/7 — White Barn to Uranus, 2.2 miles, 80 ft elev [meet @ white barn]
2) Sat 1/14 – Lower Bald & Creekside loop, 1 mile, 115 ft elev [meet @ main lot]
3) Sat 1/21 — Hillside-Meadow loop starting and ending at campground, 3 miles, 250 ft elev [meet @ white barn]
4) Sat 1/28 – Jack London State Historic Park, May's Clearing loop, 3.7 miles, 430 ft elev [meet @ 2400 London Ranch Road, Glen Ellen, CA 95442, upper parking lot]
5) Sat 2/4 – Stern, Pony Gate and Canyon, 3 miles, 500 ft elev [meet @ main lot]
6) Sat 2/11 – Brushy Peaks to Neptune picnic table, 4.3 miles, 640 ft elev [meet @ white barn]
7) Sat 2/18 – Sonoma Valley Regional Park loop, 4.6, miles, 531 ft elev [meet at Valley of the Moon Trailhead on Arnold Dr.]
8) Sat 2/25 – Hillside + Vista Trail loop (counter-clockwise), 4.7 miles, 1000 ft elev [meet @ white barn]
Please note these routes are subject to change. Wear appropriate footwear for muddy or slippery trails and layers, as the group hikes in light rains. Bring at least a quart of water, and if desired, a snack. The group will be limited to 35 participants.
The hiking series costs $80, or free-of-cost for participants with a December 2022 ParkRx from a Sonoma County Medical Provider. Click here for ParkRx info. The number of available ParkRx tickets is limited; please have your ParkRx ready at the time of sign up.
Senderos: Excursiones

@ Sugarloaf Ridge State Park
Feb 4 @ 9:00 am – 1:00 pm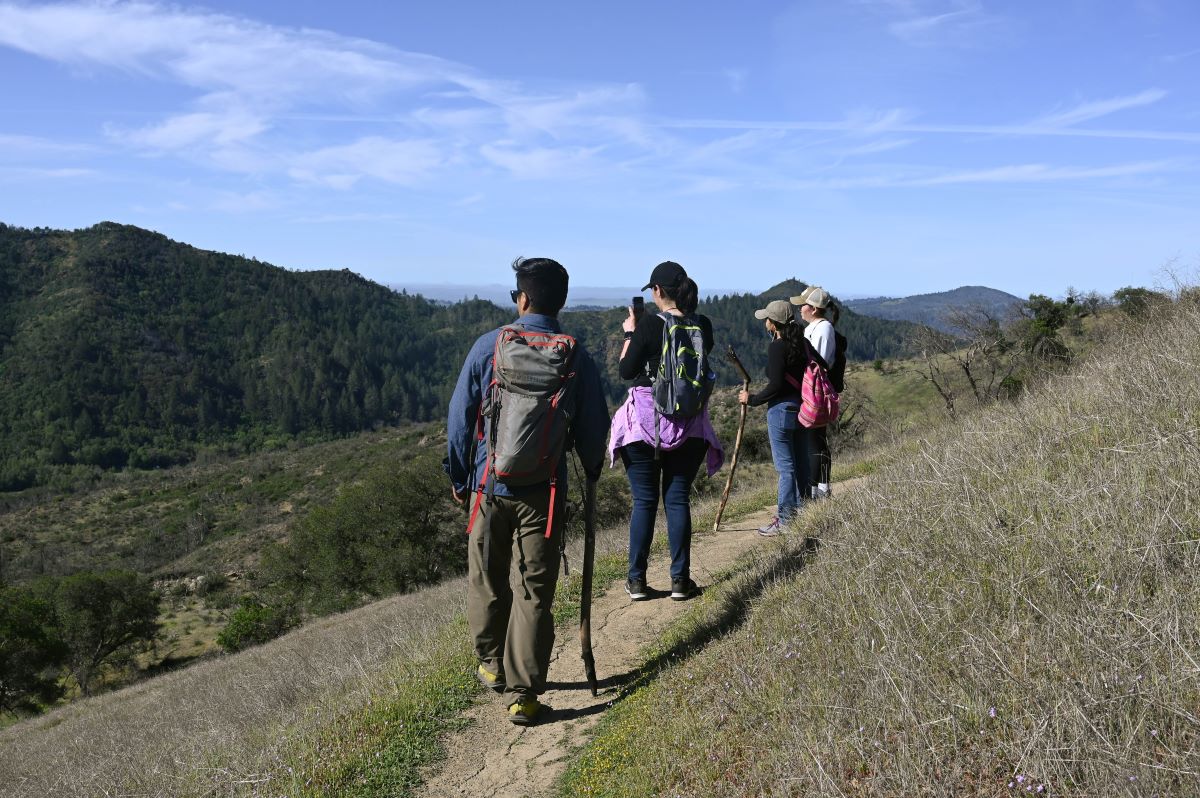 ¡Nuestro programa de excursiones para fomentar la aptitud física está de regreso! Los líderes le guiarán en una series de ocho caminatas semanales para excursionistas principiantes. Cada excursión aumentará en dificultad o duración.
A menos a que sea mencionado, todas las excursiones son los sábados, a las nueve de la mañana en el Parque Estatal Sugarloaf Ridge. Las excursiones seguirán la mismas rutas que el programa en inglés:
4 de febrero: nos reuniremos en el granero blanco y caminaremos a Urano. 2.2 millas, 80 pies de elevación.
11 de febrero: circuito Lower Bald & Creekside, 1 milla, 115 pies elevación. Reunirse en el estacionamiento principal.
18 de febrero: circuito Meadow- Hillside, empezando en el granero blanco y terminando en el campamento. 3 millas, 250 pies de elevación.
25 de febrero: circuito May's Clearing en el Parque Estatal Jack London. 3.7 millas, 430 pies de elevación. Reunirse en el estacionamiento superior en 2400 London Ranch Rd, Glen Ellen, CA, 95442.
4 de marzo: circuito Stern/ Pony Gate/ Canyon. 3 millas, 500 pies de elevación. Reunirse en el estacionamiento principal.
11 de marzo: mesa de picnic en el planeta Neptuno. 4.3 millas, 640 pies de elevación. Reunirse afuera del granero blanco.
18 de marzo: Parque Regional Sonoma Valley. 4.4, millas, 531 pies de elevación. Reunirse al inicio del sendero Valley of the Moon en Arnold Dr.
25 de marzo: circuito de los senderos Hillside y Vista. 4.7 millas, mil pies de elevación. Reunirse afuera del granero blanco.
Usualmente $80, esta series será ofrecida en un descuento de $30. Residentes del Condado de Sonoma con una Park Rx del 2023 pueden participar gratuitamente. Para aprender más acerca del programa Park Rx, visita https://sugarloafpark.org/activities/parks-rx-program/ El estacionamiento, usualmente $10 por entrada, será gratuito para aquellos que quieran participar en esta series. 

Por favor vista capas, calzado adecuado para senderos lodozos y resbaladizos, protección solar, traiga al menos un litro de agua, y si desea, un bocadillo. Las lluvias fuertes cancelan el evento pero continuaremos en llovizna. Si tiene preguntas, o busca más información, por favor comuníquese con Alma o Arsel por correo electrónico (senderos@sonomaecologycenter.org) o llame al 707-247-5767.

Vea más oportunidades recreacionales a través del programa Senderos Naturales en ésta página.
Winter Treasures: Salamanders, Lichen & Mosses, and A Waterfall

@ Sugarloaf Ridge State Park
Feb 4 @ 10:00 am – 1:00 pm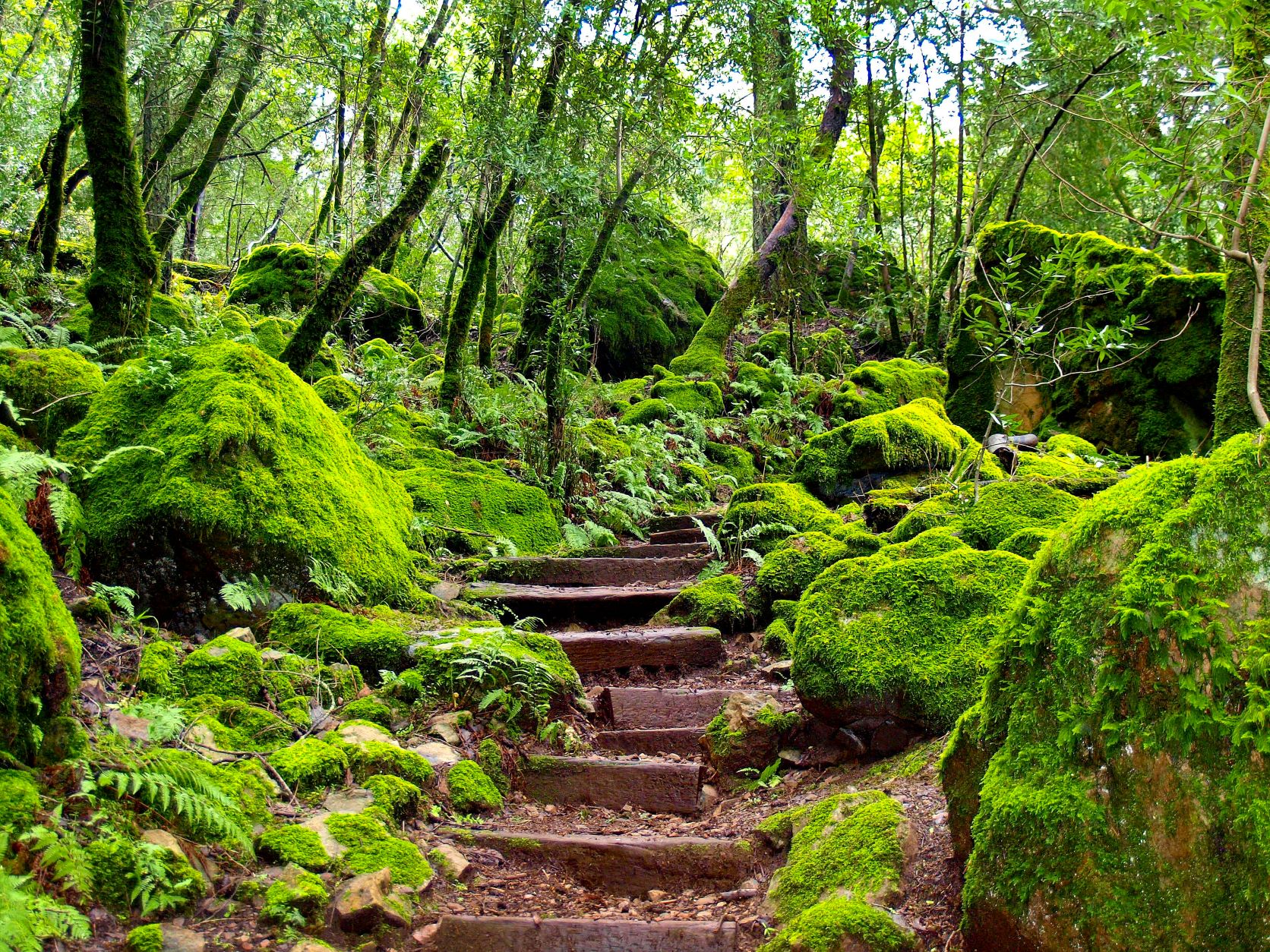 Join Naturalist John Lynch as we walk through the sublime beauty of sage green lichen on burgundy Manzanita bark and moss bedecked oaks down to the 25-foot dramatic plunge of Sonoma Creek. Beginning at the Visitor Center, we'll follow Pony Gate Trail's grassy slope, into mixed evergreen forest, along Canyon Trail's shady riparian corridor (with the promise of Pacific Giant Salamanders) to the waterfall. The return takes us back uphill, across Adobe Canyon Road to the now familiar Pony Gate trail.
This stroll is approximately 2 miles with 595-foot elevation gain. Tickets are $15 for general admission, or half price for youth (12-17 year olds), students, Sugarloaf members and Sugarloaf volunteers, and free for children under 12. Wear layers, appropriate footwear for muddy and/or slippery trails, bring at least a quart of water and if desired, a snack. Heavy rain or wind cancels and will be announced early on the day of the hike. Parking fees apply.
Ease of access: Pony Gate and Canyon are single-track dirt trails that descend into a canyon. Both have steps, and Pony Gate has a seasonal water crossing without a bridge. These trails are not accessible for wheelchairs or recumbent bicycles. Sport strollers are not recommended either.
Feb
9
Thu
Sugarloaf Volunteer Trail Crew

@ Sugarloaf Ridge State Park
Feb 9 @ 9:00 am – 1:00 pm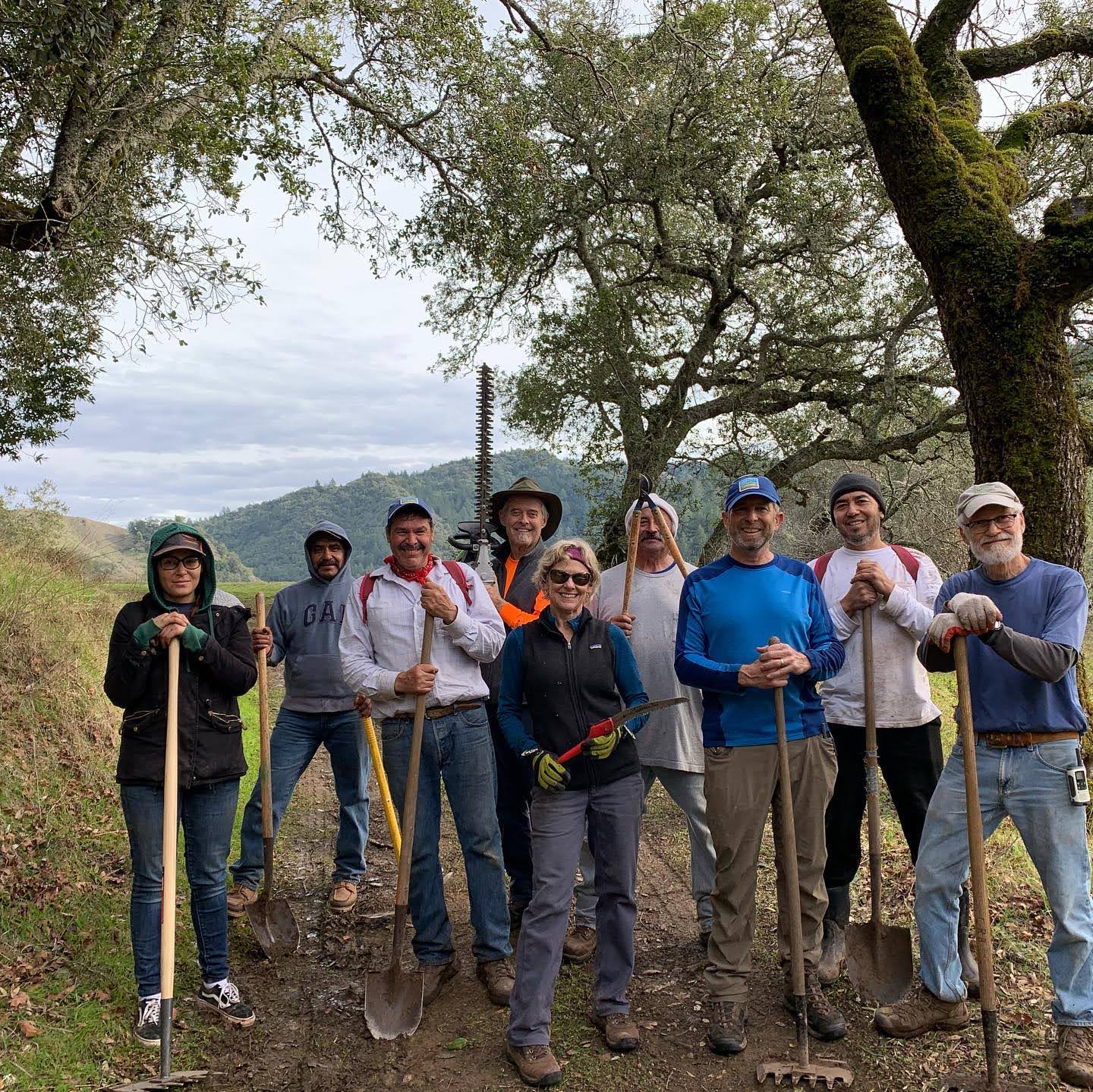 Volunteers play a crucial role at keeping Sugarloaf Ridge State Park open and accessible to all! Help Sugarloaf with trail restoration work by coming to our every-other-Thursday Volunteer Trail Crew. Activities include bridge and step construction, installing signs, clearing, lifting, carrying, and hiking.
Bring gloves, hat, and water that you can carry hands-free (i.e. bring a backpack). Wear long pants, boots or sturdy shoes and sunscreen. Long sleeves are suggested as poison oak is present. We have tools and trained crew leaders with tasks for all. Minors must be accompanied by a responsible adult. We will provide tools, and if allowed, lunch.
If you are a current Sugarloaf volunteer, log onto Better Impact to sign up. First-time volunteers are welcomed and encouraged to formally join our volunteer program if they'd like to support us more frequently. Start here to become a volunteer.