Since 1990, we've worked to increase appreciation and stewardship of Sonoma Valley's natural heritage and create measurable benefits in areas of land, water, climate change and biodiversity. More than ever, Sonoma Ecology Center needs your support to move us all towards a better future.
Sugarloaf Ridge State Park is

partially reopened

 as of Friday, Oct. 23. Parts of the park will remain closed until further notice due to the impacts of the Glass Fire.
Follow us on social media for updates.
DONATE to help reopen Sugarloaf Ridge State Park and your gift will be

DOUBLED

.
How can people, land, water, and wildlife thrive in a fire-adapted landscape?
Watch this video on how we take action to keep people safer while supporting our environment.
Who We Are
Sonoma Ecology Center works to address challenges related to water supply and quality, open space, rural character, biodiversity, energy, climate change, and a better quality of life for all residents.
Vision
We envision a future where people, land, water, and wildlife thrive.
Mission
Our mission is to work with our community to identify and lead actions that achieve and sustain ecological health in Sonoma Valley.

Register to Vote!
¡
Cómo registrarse para votar
!
In addition to the presidential race, there are state and local elections happening nationwide this year that will have a big impact on people, land, water, and wildlife. Make sure you have a plan to vote on or before November  3rd.
En adición a la carrera presidencial, en este año hay elecciones estatales y locales en todo el país que tendrán un gran impacto en el público, la tierra, el agua, y la vida silvestre. Asegúrese de tener un plan para votar el o antes del tercero de noviembre.
PROJECT MAP
An interactive map of our work in Sonoma Valley.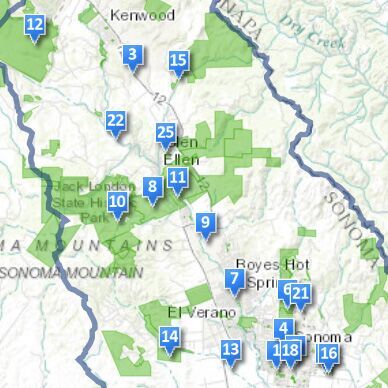 Sonoma Garden Park and Montini Open Space Preserve and Sonoma Overlook Trail, are open to the public. Normal social distancing protocols continue to apply at all parks and open spaces.
• 

Avoid drinking fountains (bring your own water)


• 

Keep a distance of at least 6 feet with anyone not in your immediate household


• 

Carry a face mask and put it on if necessary (for example, when passing someone on a trail closer than 6 feet)


• 

Stay home if you're sick


• 

Buy your Sugarloaf Ridge State Park day or annual pass ahead of time