NONPROFIT OF THE YEAR
Sonoma Ecology Center is proud to be named Nonprofit of the Year by state Sen. Bill Dodd in acknowledgment of our 30-year history of environmental stewardship in Sonoma Valley.
Click to Learn More about this Special Honor
HAPPY ANNIVERSARY
We're excited to celebrate the 50th year of Sugarloaf Ridge State Park, the 25th year of Sonoma Garden Park, a more inclusive Education Department, and an expanded Restoration Department.
Jul
15
Mon
Creek Camp at Sugarloaf

@ Sugarloaf Ridge State Park
Jul 15 @ 9:00 am – Jul 19 @ 3:00 pm
Ages 8 to 12
July 15-19, 9am to 3pm each day
Cost: $260 SEC members/$300 non-members
Join us for Creek Camp exploration at Sugarloaf Ridge State Park. Traverse the headwaters of Sonoma Creek Watershed in this recreational and environmental education camp. Campers will spend the week as junior scientists, starting off the day with morning hikes on the parks trails. As the day warms, we'll stay close to water, exploring the creeks for insects and amphibians, and we'll cap each day off with visits from local naturalists. Activities include investigating the properties of water, collecting and studying aquatic insects, learning about the wildlife and plants found in the park. Visits from wildlife centers, bird watchers, and astronomers will be included throughout the week. Our camp days will also consist of plenty of games, arts & crafts, and storytelling.
Please note: Submitting payment on Brown Paper Tickets holds your camper's spot, but registration is not complete until you have submitted the required registration forms. These forms will be emailed to you.
Jul
19
Fri
Un fin de semana en Sugarloaf (Weekend at Sugarloaf)

@ Sugarloaf Ridge State Park
Jul 19 @ 5:00 pm – Jul 21 @ 12:00 pm
Viernes 19 de julio, 5:00 pm a domingo 21, 12:00 pm
¡Está de regreso! Este julio, el parque estatal Sugarloaf Ridge invita a familias latinas a un fin de semana de acampar, completo con una fiesta de estrellas bilingüe. Tendremos equipo de acampar disponible y comidas comunitarias. El espacio está limitado a 70 participantes. La registración es $35 por adulto y gratuito para los menores de edad, e incluye la renta del sitio y  el estacionamiento. Por favor, regístrese por adelantado en https://www.brownpapertickets.com/event/4287348. Para más información, por favor contacte a Alma: alma@sonomaecologycenter.org 
Weekend at Sugarloaf
Friday, July 19th, 5:00 pm – Sunday, July 21, 12:00 pm
It's back! This July, Sugarloaf invites the Latino family to a weekend of camping, complete with a bilingual star party. Gear can be provided, you bring the food! Participants capped at 70 people. Registration is $35 per adult and free for minors and it includes the site rental and parking. Please register at: https://www.brownpapertickets.com/event/4287348 For more information, contact Alma at alma@sonomaecologycenter.org
Jul
20
Sat
Saturday Harvest Market

@ Sonoma Garden Park
Jul 20 @ 9:00 am – 12:00 pm
Sonoma Garden Park's seasonal Harvest Market operates each Saturday of the harvest season from 9 a.m. to noon in the Straw Bale Barn. Come for the freshest seasonal produce available!
Depending on what's in season, you'll find such produce as tomatoes, squash, onions, potatoes, chard, figs, apples, herbs, fresh cut flowers and other fruits, nuts and vegetables. We also sell eggs laid on-site from our free range hens, as well as locally crafted olive oil. And we feature plants from our nursery.
When you shop at the market, you are supporting local, sustainable agriculture and supporting this wonderful community resource. Come to the Harvest Market at Sonoma Garden Park every Saturday through the growing season and enjoy fresh, local, sustainably grown produce.
Forest Therapy

@ Sugarloaf Ridge State Park
Jul 20 @ 9:30 am – 12:30 pm
The Practice of Forest Therapy, has been shown to improve health and well-being.
Have you heard about Shinrin Yoku or Forest bathing? Here is an opportunity to take a walk and experience the practice for yourself. Learn techniques to maximize the health benefits and stress reducing qualities of this walking practice. Shinrin yoku originated in Japan and is gaining popularity in the United States for its documented Health benefits.
This practice takes a walk in the woods to another level. A centering and calming restorative practice, it promotes balance and restored vitality through a quality of presence and heightened sensory awareness. Recent articles have been written up in Oprah, Time Magazine, and National Geographic, as well as numerous other publications. Sugarloaf Ridge State Park hosts a Forest Therapy Series as part of its Parks RX program the 3rd Saturday of each month. These walks are led by certified ANFT (Association of Nature and Forest Therapy) practitioners. See http://www.natureandforesttherapy.org/ for more info about this practice.
Tickets $20 or free with a ParkRx from a Sonoma County Medical Provider (click here for more info).
Tickets: https://www.brownpapertickets.com/event/4090665
Creekside Nature Hike

@ Sugarloaf Ridge State Park
Jul 20 @ 10:00 am – 11:30 am
Join us for a 1.4-mile nature hike along the Sonoma Creek. On the hike your leader will teach you about the plants, animals, and aquatic life of Sonoma Creek. The hike starts at the visitors' center. No fee, but parking charges apply.
Project Story Map
Click on the image below for an interactive map showing our projects in Sonoma Valley.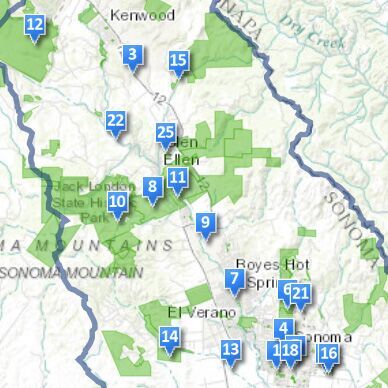 Sign the SDC Petition
Sonoma Developmental Center is preparing for final closure after 127 years of operation. Please sign the petition urging Gov. Jerry Brown to protect this large swath of crucial open space located in the heart of Sonoma Valley.
Smarter Landscaping
Click on the image below for a pdf version of our brochure on fire smart, water wise and wildlife friendly landscaping.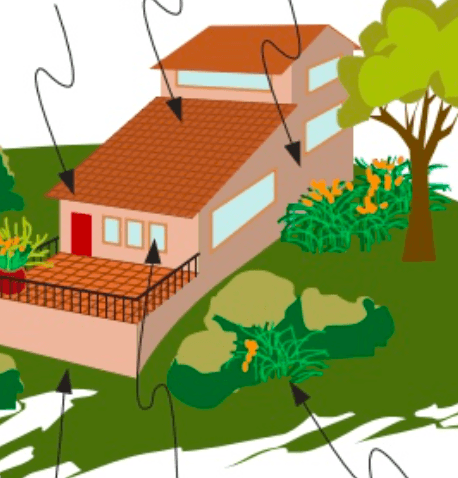 Support Our Work
We can't do it without you!
Subscribe to Our Newsletters
Receive news in your inbox from Sonoma Ecology Center, Sonoma Garden Park or Sugarloaf Ridge State Park.
The Ecology Blog: What's Happening in Sonoma Valley