Feb
18
Mon
Presidents' Day (regional holiday)
Public holiday in: Alabama, Alaska, Arizona, Arkansas, California, Colorado, Connecticut, District of Columbia, Florida, Hawaii, Idaho, Illinois, Maine, Maryland, Massachusetts, Michigan, Minnesota, Mississippi, Missouri, Montana, Nebraska, Nevada, New Hampshire, New Jersey, New York, North Dakota, Northern Mariana Islands, Ohio, Oklahoma, Oregon, Pennsylvania, South Carolina, South Dakota, Tennessee, Texas, Utah, Vermont, Virginia, Washington, West Virginia, Wyoming
Family Hike

@ Sugarloaf Ridge State Park
Feb 18 @ 10:00 am – 12:00 pm
Come to the park for a peaceful hike through the woods, join our Docent's for this fun family hike that is good for all ages. During this 2 miles hike with a 400 foot vertical, you will learn about Sugarloaf Park and its plants, animals, and history. Weather permitting, the hike will begin and end at the Visitors Center. No RSVP needed, and no charge for the hike. Parking fees apply.
Feb
23
Sat
Edible Plants Walk

@ Sugarloaf Ridge State Park
Feb 23 @ 9:30 am – 12:00 pm
Join Mary Good on a hike exploring the Medicinal and Edible plants of the park. Weaving in natural history, ethnobotany, herbalism and folktales, this walk will open your senses, as well as your curiosity to the abundance of plantlore in Sonoma County. 9:30 AM to 12 PM. Be prepared for a 2 to 3 mile walk with a 300 foot climb. Meet at the visitors center. $10.00 per adult, 18 and under free. Parking fees still apply. Edible plant information is for educational purposes only. Foraging is illegal in CA State Parks.
Purchase tickets here: https://www.brownpapertickets.com/event/4029785
Nathanson Stewards Volunteer Clean-up

@ Nathanson Creek Preserve Native Garden
Feb 23 @ 9:30 am – 12:30 pm
On the fourth Saturday of every month, the Nathanson Stewards meet at the corner of East MacArthur and Second Street East, put on their gloves, and have a fun and productive morning tending the native garden located there.
This event is guided by trained restoration technicians from Sonoma Ecology Center, with a focus on native gardening and landscaping. The subject matter will vary with the seasons, and our technicians will demonstrate proper techniques for caring for the different native plants located within the Nathanson garden. Volunteers are asked to bring sunscreen or a hat, bottled water, a sack lunch and work gloves, and to wear closed-toed shoes. All ages are welcome, but children must be accompanied by an adult.
We'll meet at the Nathanson Creek Preserve Garden located on the corner of East MacArthur Street and Second Street East in Sonoma. Activities may include:
Weeding
Trash pick-up
Getting to know your neighbors
Learning about native plants
Sharing a sack lunch
Connecting with nature at your local park
For questions or to express interest, please email nathansonstewards@gmail.com or patrick@sonomaecologycenter.org.
Invasive Plant Workshop

@ Sonoma Garden Park
Feb 23 @ 10:00 am – 3:00 pm
Are you interested in learning more on ways to protect habitats and natural resources here in Sonoma?
The Sonoma Ecology Center with support from the California Invasive Plant Council will be holding an upcoming workshop on invasive plant management. Topics will include the top 10 invasive species of Sonoma, along with the best ways to control them. We'll also discuss post-fire invasive plant and fuel management, and end with ways you can help, from mapping to volunteering.
Please join us at the Sonoma Garden Park on Saturday, Feb. 23rd from 10 a.m. to 3 p.m. Register with Cal-IPC here.
Project Story Map
Click on the image below for an interactive map showing our projects in Sonoma Valley.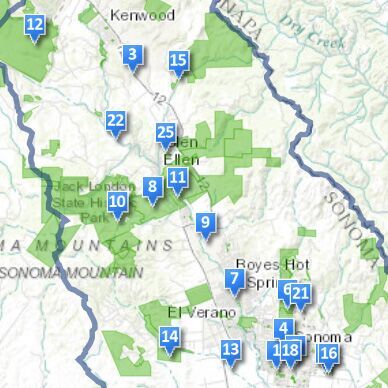 Sign the SDC Petition
Sonoma Developmental Center is preparing for final closure after 127 years of operation. Please sign the petition urging Gov. Jerry Brown to protect this large swath of crucial open space located in the heart of Sonoma Valley.
Smarter Landscaping
Click on the image below for a pdf version of our brochure on fire smart, water wise and wildlife friendly landscaping.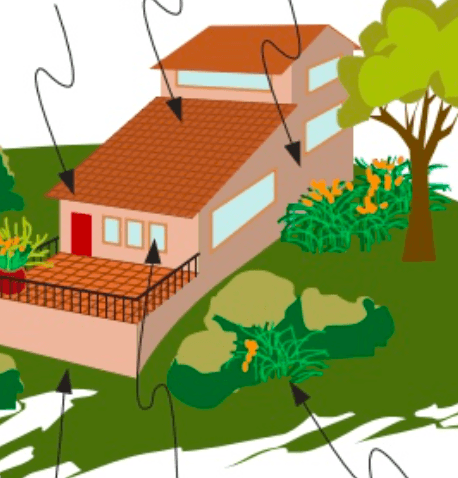 Support Our Work
We can't do it without you!
Subscribe to Our Newsletters
Receive news in your inbox from Sonoma Ecology Center, Sonoma Garden Park or Sugarloaf Ridge State Park.
The Ecology Blog: What's Happening in Sonoma Valley