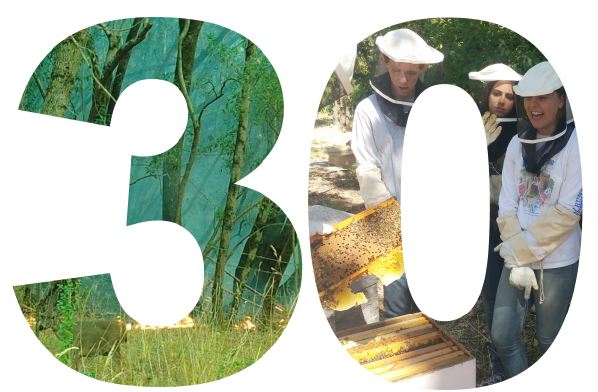 We know that we have something special in Sonoma Valley—a community that loves the land and cares about each other. Your generous support of Sonoma Ecology Center lays the foundation for the important work ahead.

Here's what we've done so far.
Make a Difference With Your 30th Anniversary Gift!
Sonoma Ecology Center is a 501(c)(3) non-profit.
Our tax ID is 94-3136500.
Please make checks payable to Sonoma Ecology Center. Mail to Sonoma Ecology Center, PO Box 1486, Eldridge CA 95431
If you are interested in making a more substantial investment in Sonoma Ecology Center, thank you, we would be delighted to speak with you about our many funding opportunities. Please email Tiffany Wing at donate@sonomaecologycenter.org.
With your support…
• We support healthy communities by providing safe access to nature
• We host Environmental Discovery Days & bring science education into virtual classrooms
• We create fire-adapted landscapes and help the community adapt to wildfire
We welcome you to join our new membership program and enjoy the benefits below.
$100 – Trailblazer
Member Level Benefits plus…
One day parking pass to Sugarloaf Ridge State Park (also valid for Jack London State Park)
50% off Sugarloaf Ridge State Parks hikes for you and a friend (Excluding Fireworks Hike, Brunch on Bald, Headwaters to Headwaters Hike)
Discount of $40 per session on our Summer Science Camps
Recognition in our annual Impact Report
$250 – Steward
Trailblazer Level Benefits plus…
A gift of fresh produce from the Harvest Market at Sonoma Garden Park once per peak season
30% discount on Sonoma Garden Park workshops
Invitation to donor appreciation events
$500 – Path Finder
Steward Level Benefits plus…
Annual parking pass for Sugarloaf Ridge State Park (also valid for Jack London State Park)
$1,000 – Ambassador
Path Finder Level Benefits plus…
Two complimentary tickets to Sugarloaf Ridge State Park's Headwaters to Headwaters Hike
$5,000 – Defender
Ambassador Level Benefits plus…
Two complimentary tickets to Sugarloaf Ridge State Park's Fireworks Hike
$10,000 – Valley Visionary
Defender Level Benefits plus…
Private guided hike for 8 at Van Hoosear Wildflower Preserve
Membership benefits last for 12 months
Other ways to help include:
– Legacy Giving
– Tax-Wise Giving with Your IRA Required Minimum Distribution
– Donating Stock
– Being a Business Partner