Sonoma Garden Park
Sonoma Garden Park a 6.1 acre park public garden located at 19996 7th St E, Sonoma, CA, 95476 and is open daily from sunrise to sunset.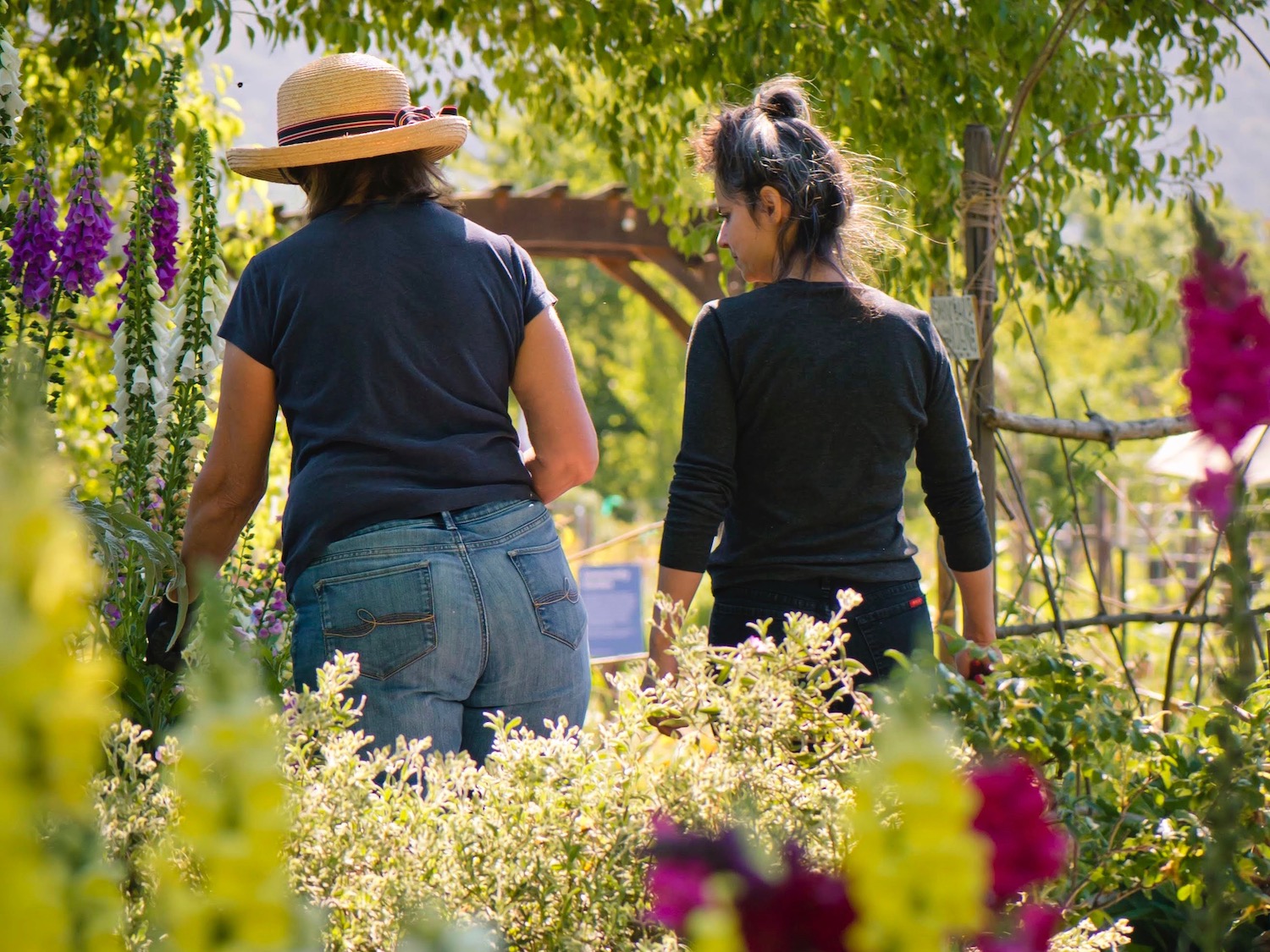 Volunteer at Sonoma Garden Park

Volunteers play a vital role at Sonoma Garden Park. Become a regular volunteer and grow your gardening knowledge while meeting some wonderful people!
Sonoma Garden Park Volunteer Drop-In Hours:
Mondays 9:00 am-12:00 pm
Wednesdays 9:00 am-12:00 pm
Fridays 9:00 am-12:00 pm
Saturdays 9:00 am-12:00 pm 

Please fill out this form if you are interested in volunteering. For questions, please email volunteer@sonomaecologycenter.org.
Our Volunteer Social is every third Friday of the month, 9:00 am-12:00 pm. This is a great opportunity to meet existing and new volunteers. Activities include weeding, planting, pruning, and harvesting. After work, enjoy a light lunch provided by Sonoma Ecology Center. Please RSVP.
Specialized Volunteer Opportunites
Volunteer in our Native Plant Nursery! Drop-in hours are Wednesdays and Fridays, 9:00 am-12:00 pm. RSVP to hannah@sonomaecologycenter.org.
We are looking for someone to join the chicken team! Responsibilities include locking the chickens in their coop before sundown every week (rain or shine) during Friday evening shifts. This is the most important part of the job so that the hens are safe from predators! In addition, the volunteer would gather the eggs and put the chicken feed away. Email volunteer@sonomaecologycenter.org to learn more how you can join the chicken team!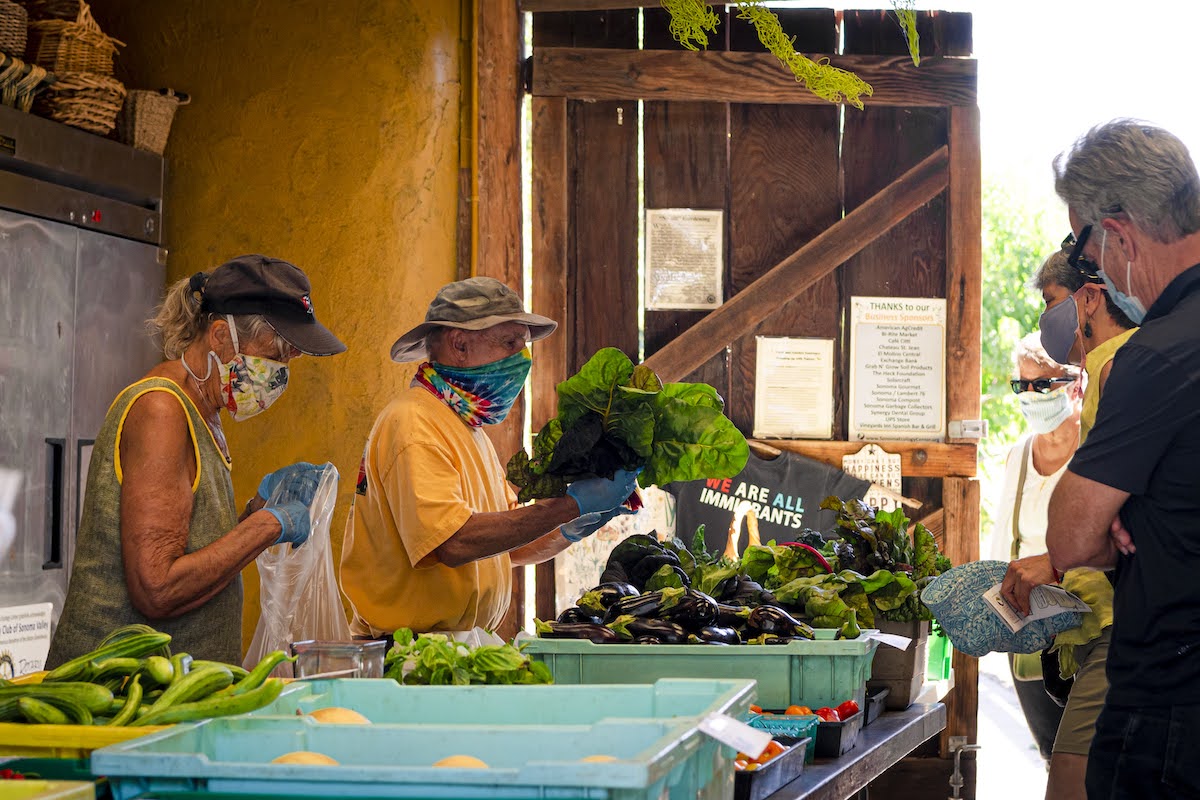 Saturday Harvest Markets
Sonoma Garden Park's Harvest Market is in full swing, every Saturday from 9:00 am-12:00 pm. The Harvest Market is a great place to pick up produce, flowers and eggs harvested from our 6.1 acre sustainable garden. Products such as fresh produce, eggs from free range chickens, honey and olive oil are for sale. The market now accepts credit cards. Just remember to bring your reusable shopping bag!
Note: The last official Harvest Market will be October 1, 2022. Saturday volunteer days and sales of local olive oil and preserves will continue through the winter season.
Take the Low Impact Design Tour
Try Sonoma Garden Park's Low Impact Design (LID) walking tour! This self-guided tour describes the many LID features on display around the park. Copy them at home for simple, beautiful and effective drought-tolerant landscaping!
Sonoma Native Plant Nursery
Our Restoration team manages an in-house native plant nursery at Sonoma Garden Park. Through the nursery we offer more than 80 native species and are able to propagate thousands of plants every year, replanting areas in Sonoma Valley and beyond.
We contract grow for selected projects for which we conduct watershed-specific propagule collection. Our plants are grown in a variety of container stock (4" plugs, 6" plugs, tree band, D40, D60, 1 gallon, tree pots, or 5 gallon) to meet the needs of the project.
Plants are produced following BMP protocols in clean facilities with sterilized pots and soils on metal tables under rigorous pathogen prevention standards. We conduct regular Phytophthora testing and can outsource lab work for plant materials from restoration sites or from nursery stock. Our nursery is registered with the California Department of Food and Agriculture and is in compliance with the Nursery Stock Registration and Certification Programs.
Community Garden Plots: Want to grow your own produce in sunny, fertile Sonoma Garden Park?
We rent/renew 40 garden plots every spring
We have two garden plot sizes: Single 10×15 ($150) or Double 20×30 ($300)
Spaces are rented on an annual basis
Cost includes use of garden tools, compost, and water
You receive discounted registration fees for workshops to learn more about sustainable gardening
Note: Sonoma Ecology Center Membership is required to rent a garden plot (minimum membership is $50)
To learn more about our Community Garden Plots or to check on availability, please email garden@sonomaecologycenter.org.
Event Rental: Sonoma Garden Park is available to rent for larger events. Just minutes away from the center of Sonoma, this beautiful outdoor location is a hidden gem!
For more information on renting out Sonoma Garden Park for events, please reach out to garden staff during volunteer hours, email garden@sonomaecologycenter.org, or fill out this event inquiry form.
Our Education Program activities at Sonoma Garden Park
Sonoma Garden Park provides an opportunity to connect with the natural world that sustains us. At the core of all programs is learning about the reciprocity of relationships to the natural world and among other humans in a community. The projects and programs of Sonoma Garden Park create an interdisciplinary learning environment.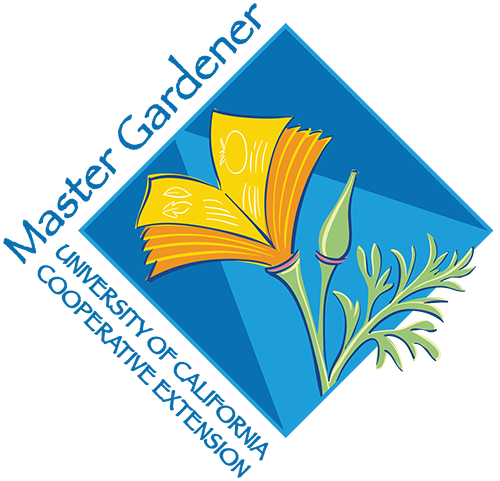 UC Master Gardener Program
The UC Master Gardeners of Sonoma County developed and maintain the Water-wise Demonstration garden at Sonoma Garden Park. These Water-wise features show how plants with low water needs could be planted within a garden setting, thus giving the garden visitors a chance to see how they might have a planted garden space without the need to water often.
The UC Master Gardeners of Sonoma County and their young gardening visitors also created the Children's Garden, a special place where families can come to play, taste and learn about gardens. Learn more about their projects and workshops at Sonoma Garden Park.
History of Sonoma Garden Park
Sonoma Garden Park was originally the property of Pauline Bond, a Sonoma schoolteacher who gave the land to the City of Sonoma in 1977 with the agreement that it remain a public park. In 1993, Sonoma Ecology Center entered into an agreement with the City of Sonoma to take over regular operation of the 6.1 acre park, and began to grow it from a bare lot to its current lush grounds of orchards, gardens and public gathering places.
Improvements were made over time, including a Straw Bale Barn built in 1994, a Native Plant Nursery built in 2012, and Low Impact Design features added in 2017. In 2019, the City of Sonoma approved our new Master Plan Update, guaranteeing that this beloved park will continue to be an essential community gathering place for many years to come.
All through the growing season, Sonoma Garden Park hosts a Harvest Market in its Straw Bale Barn every Saturday from 9 am to noon, where the garden's abundant produce — fruits, vegetables, herbs, flowers and eggs from our chickens — is sold. For the multitude of public workshops, classes, camps and other events held at Sonoma Garden Park, see our events calendar.
Sonoma Garden Park has changed a great deal over the years. Here are some key milestones:
1994: The Straw Bale Barn
Bruce Maxwell, a Sonoma Ecology Center volunteer, designed and supervised construction of the Straw Bale Barn. Using almost entirely donated materials (including the roof trusses which were provided by All Truss, a local truss maker), the barn was built over the course of numerous volunteer workdays covering different phases: foundation pouring, straw bale wall installation, roof installation, stucco application, and clay floor installation. Everything in the barn is original except the clay floor, which was replaced around 2012. The redwood doors and siding were salvaged from the Dolcini family barn, once located where Adele Harrison Middle School now stands.
2007-09: Children's Discovery Trail
This project was funded by Whitney and Janet Evans, local philanthropists who wanted to bring some of the joy of gardens they shared with their children to the people of Sonoma. The Children's Discovery Trail currently consists of three locations and interactive panels meant to inspire and educate children about butterflies, birds and bees.
2012: The Nursery
An initial shade structure at the Garden Park was designed by longtime Sonoma Ecology Center Restoration Project Manager Mark Newhouser and built out of salvaged decking with volunteer labor in 2008. Soon after that we began work on a state-of-the-art greenhouse, built mostly by volunteers over three years and finished in 2012. The Sonoma Native Plant Nursery, which now grows most of the plants for Sonoma Ecology Center's restoration work, was funded by numerous sources, including Sonoma Rotary, Sonoma County Agricultural Preservation and Open Space District, MGP, nursery funds, Americorps labor, Audiss Electric, Boden Plumbing, Berger Concrete, Impact 100, and the City of Sonoma.
2012: Conservation Easement
A Conservation Easement, established through Sonoma County Agricultural Preservation and Open Space District, protects the land and provides exclusions from certain types of development on the land, in perpetuity. Land must be maintained as publicly-accessible open space for recreation, agriculture, and habitat conservation purposes. The easement established eligibility for Sonoma Garden Park to receive funding through the District's matching grant program, and has funded two phases of infrastructure development to date. Projects in those grants included completion of an ADA pathway network, new signs, drinking water fountains, oak woodland restoration, and a native plant nursery garden.
2015: ADA (Americans with Disabilities Act) Pathway
The City of Sonoma funded a pathway system in 2007. A more permanent set of pathways, incorporating the old pathway as a foundation, was completed with funding by Ag+Open Space district's matching grant program. These ADA pathways mean our park is a place everyone can enjoy.
2017: Low Impact Design (LID) features and Park Upgrades
Sonoma County Water Agency funded a project to provide a demonstration of LID infrastructure. These design features manage storm water runoff so that it stays on the land, and infiltrates and recharges groundwater. Water also filters through vegetation and gravel to remove sediment and chemical pollutants before it enters streams and other waterbodies. Manageed storm water can also be stored and utilized for landscape uses. The project is intended to inspire, so that others might adopt these practices as simple, economical features that landowners can build or easily retrofit themselves.
2019 And Beyond:
Today, Sonoma Garden Park shows the fruits of our labor in every sense. Beloved features at the Garden Park include the seasonal Saturday Harvest Market, native plant nursery, community garden plots, community workshops, and the many longstanding youth education activities such as school field trips, EnviroLeaders and Summer Science Camps.
Sonoma Ecology Center is also working on the future of Sonoma Garden Park, and is currently working with the City of Sonoma and community to update its Master Plan to bring improvements to the park, including the inclusion of the "Grandmother Tree" and the old homestead area, an education office and classroom, improved children's play areas, and public restrooms.
See below for a great video on our educational programs at Sonoma Garden Park — plus a visit to the Garden Park in 2016 by legendary Bay Area traveler Doug McConnell.