Sonoma Ecology Center Victory Gardens are now yielding summer squash, peas, and beans in gardens throughout Sonoma Valley. We asked our friends at Valley Bar + Bottle to create a recipe using these ingredients.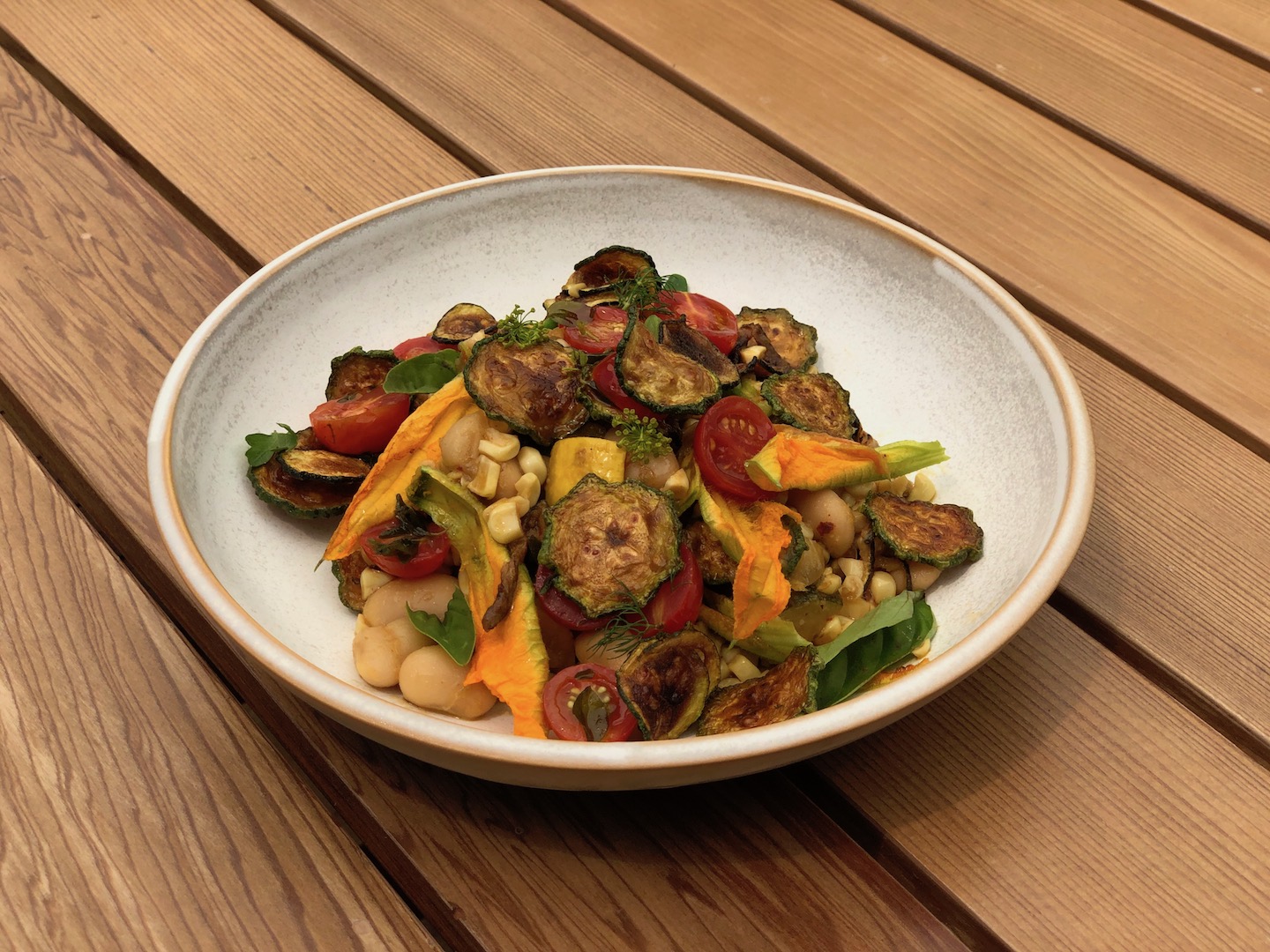 Indigenous farming traditions across America and Mexico revolve around the 3 Sisters, the interplanting of corn, squash and beans for their mutually beneficial qualities in the garden. That relationship extends to the plate. The name "succotash" comes from a Native American word for the cooking of corn kernels, which morphed into a classic Northeastern summertime dish often featuring lima beans. Succotash can be what you want it to be, combining the best of what comes up in the garden all at once into a delicious seasonal medley. Serve as an accompaniment to grilled meat, as a side dish at your bbq, or make it the main event itself with the addition of a little butter or an egg on top. It makes a well-rounded "one-dish" vegetarian meal in the summer when finished with a little butter and served with bread, and it provides excellent leftovers.
This is a method, not a recipe in the strictest sense, but is how we approach making this dish at Valley. As your garden delivers its unique abundances throughout the season, utilize a variety of techniques to combine them together in a way that maximizes their diversity of flavors and textures. 
BEANS – Fresh shelling beans: Shuck. Cook in plenty of water with a bit of onion or aromatic herbs. When they are tender, add salt to the water and a glug of olive oil. Taste the broth – the beans will absorb the liquid, so make sure it is delicious and seasoned the way you like it. Continue to simmer the beans until they are fully tender, then let cool in their broth. Pole beans or bush beans: De-string beans. Blanch in salted water until tender. Cut into attractive bite-size pieces. Dried beans: If you didn't grow any beans, or have some dried beans from your pantry you want to throw in. Cook the same as the fresh shelling beans, but soak them in water overnight first.
SQUASH – Any summer squash or zucchini will work! If they are picked when small and taut, slice in half and char on a grill or in a cast iron pan, then cut into large dice or bite size pieces. If they are large and more watery, scrape out their soft seeds first, and cut into large wedges, then brown in a pan. You can also slice the squash thinly and fry.
CORN – Boil, grill or cast iron char the cobs, then cut off the kernels. Or, cut the kernels off first, and then sauté them with butter or olive oil, or simmer in stock, or boil in water then add a knob of butter, cream or crème fraiche.
DRESSING or MARINADE:  Once you have all these elements cooked, combine them in whatever proportion you like in a wide, shallow casserole dish or cazuela. If you simmered or boiled anything, include some (or all) of the juices. To dress the succotash, add some sliced or diced onions, spring onions or scallions, roast or finely chop garlic. Include halved

cherry

tomatoes

or roasted larger tomatoes. Slice, pickle or roast fresh sweet peppers and/or

chiles

. Stir these ingredients in, with olive oil, vinegar or lemon juice for acidity, plus black pepper and/or dried chile for kick. If you want a richer dish, finish with crème fraiche or butter. Taste it! It should be juicy, savory, have brightness and balance.
GARNISH: Fresh herbs: basil, chives and cilantro work especially well, squash blossoms if you have them.
We were delighted to see this dish on Valley's opening night menu yesterday, and collaborate with the wonderful team committed to "…simple food driven by seasonal produce and our personal histories…delicious wines with a focus on organic, biodynamic, regenerative & traditional agricultural practices"
and love that this local business aims to take
a sustainable approach to all aspects of their business, from environmental impact to balance and equity in the workplace.
Learn more
.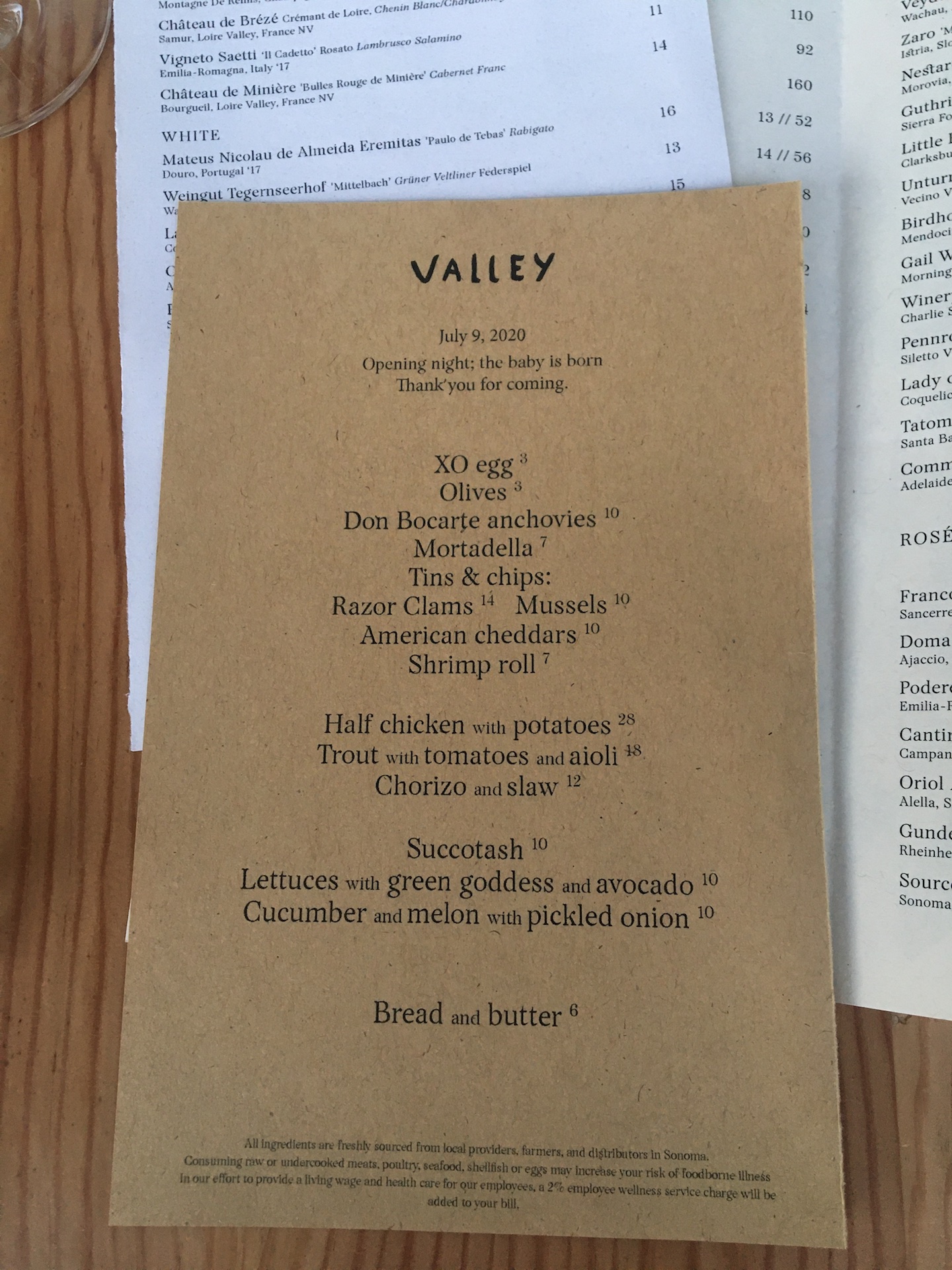 #SECVictoryGardens Shared by Community Members