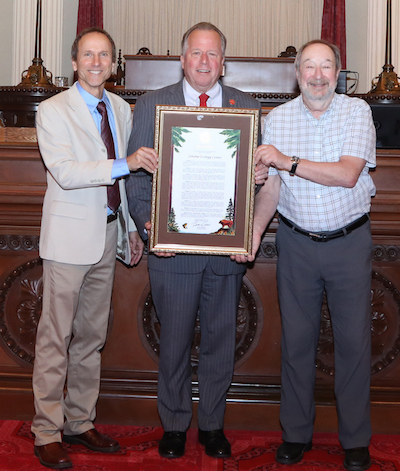 Sonoma Ecology Center is thrilled to be named
Nonprofit of the Year
by state Sen. Bill Dodd in acknowledgment of our 30-year history of environmental stewardship in Sonoma Valley and, most recently, for our leadership role in
post-fire recovery
and the
closure of SDC
. Thank you Sen. Dodd!
An awards ceremony was held in Sacramento on June 5, and Sonoma Ecology Center Executive Director Richard Dale and board president David Morell traveled to the Capitol to receive the honor alongside other recipients from around the state.
Dodd's office picked a top nonprofit from each of the six counties in his district, and selected Sonoma Ecology Center as top among them. In total only 100 nonprofits, out of more than 75,000 in California, are selected each year.
Dale underscored the importance of community involvement to Sonoma Ecology Center's successes, noting that "Decades of stewarding Sonoma Valley and our commitment to understanding its evolving issues allows us to bring people together to find the best solutions to complex problems."
Sonoma Ecology Center is a 30-year-old nonprofit in Sonoma Valley that takes a holistic, community-based approach to environmental stewardship. Focus areas include streamflow and water quality, habitat enhancement, species diversity, science education and sustainability. Our educators provide free K-6 education to Sonoma Valley students, paid internships to high schoolers, and California Naturalist courses for adults. Our researchers monitor streams, guide citizen science projects and study and develop a variety of solutions to environmental problems. Our restoration specialists curb invasive species and soil erosion while restoring streambanks, meadows and hillsides. Behind the scenes, our executive leadership advocates for key open space and habitat protections in Sonoma Valley, from the Sonoma Wildlife Corridor to Sugarloaf Ridge State Park to Sonoma Developmental Center.
"I am constantly amazed at the impact Richard Dale and his group have had on our community," Dodd said in a statement. "They've shown time and again their commitment to environmental stewardship while keeping the best interests of the public in mind. They are a model for others to follow."
The annual awards ceremony is organized by the California Association of Nonprofits to draw attention to the invaluable contributions nonprofits make to California's economy and society. According to the group, nonprofits are the fourth-largest industry in the state by employment, generating well over $200 billion in annual revenues.