When:
January 29, 2022 @ 9:00 am – March 12, 2022 @ 1:00 pm
2022-01-29T09:00:00-08:00
2022-03-12T13:00:00-08:00
Where:
Sugarloaf Ridge State Park
Sugarloaf Ridge State Park 2605 Adobe Canyon Road
Kenwood, California
95452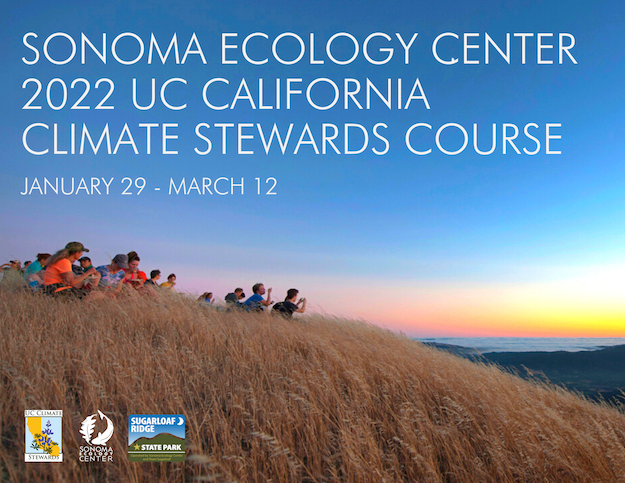 Overview  
As one of 9 pilot programs across the state, the 7-week UC Climate Stewards  Course seeks to foster a committed corps of volunteers ready to effectively engage in transformative local solutions to promote community and ecosystem resilience in a changing climate. The UC Climate Stewards course will introduce you to social-emotional learning and trauma-aware practices, climate change communication, climate science, and community resilience planning.
This UC Climate Stewards Course will integrate locally relevant themes of fire, water and inclusion. Through guest speakers, field activities, and participatory science we will learn about and discuss principles and practices towards increasing community and ecosystem resilience to fire, drought, and floods.
Learning Outcomes
• Increase access to up-to-date and locally relevant climate science to improve climate literacy
• Improve participants' self-efficacy and agency by fostering climate change communications skills development, civic engagement, and local conservation and community action
• Establish an inclusive community of practice focused on stewardship, communication, and community solutions to advance resilience
• Build statewide support and capacity to effectively advance state and local climate goals
Link to the UCANR Website for more FAQ and information on the curriculum: https://calnat.ucanr.edu/cs/