The Sonoma Developmental Center campus
Starting with the establishment of the County's first recognized wildlife corridor across the Sonoma Developmental Center in 1998, and the eventual transfer of 600 acres of SDC's open space lands to Jack London State Historic Park in 2002, Sonoma Ecology Center has continued to push for the protection of the site's land, water, and biodiversity in the current Specific Plan process. Striving for multiple benefits, we feel the plan should also provide affordable housing, offer a beneficial economic engine for our community, and be scaled to the site and its surroundings so that development impacts are limited. While much can be improved in the current plan, it includes many solid gains, some of which use exact wording from SEC's detailed public comment letters. We are pleased to share with you some wins that are now incorporated into the latest version of the SDC Specific Plan ("SDC Plan").
As a result of input and advocacy from Sonoma Ecology Center and others, the latest SDC Plan…
Doubles the width of the protected setback along creeks, to 100' for Sonoma Creek and 50' for Hill/Mill Creek.  

Prohibits intensive land uses in the "protected open space" outside the campus. Previously, uses like timber conversion, nurseries, and confined animal operations were allowed.

Shrinks the existing campus in order to widen the wildlife corridor, by permanently removing existing buildings Paxton, Thompson/Bane, Residence 126, and buildings on the northeast side of campus.

Acknowledges

Sonoma Ecology Center's

iNaturalist dataset

of plants and animals photographed onsite by scientists and the public, thereby noting these species' real existence on the campus, including protected species located in the path of a proposed road. Learn more about how Sonoma Ecology Center uncovered the biodiversity of Sonoma Developmental Center

here

.

Calls for 40-60% of the new housing to be affordable to lower-and middle-income people, numbers much closer to the 75% SEC asked for.

Requires a formal wetland delineation before projects are approved.

Prohibits "a net increase in withdrawals or diversions from area springs and streams, including Roulette Springs, Hill Creek, Asbury Creek, and Sonoma Creek, within critical low-flow periods, including summer, fall, and drought conditions, or as annual averages." This language came directly from Sonoma Ecology Center.

Requires, in the two "managed landscape buffers" along the western and eastern edges of the campus, management practices that reduce hazardous fuels and also "enhance biodiversity, reverse weed invasions, and protect water resources." This language came directly from Sonoma Ecology Center.

Requires future property owners to "collaborate in good faith with surrounding properties to improve wildlife habitat and permeability across property boundaries, up to and including the eventual construction and maintenance of a wildlife overpass or underpass across Highway 12." This language came directly from Sonoma Ecology Center.

Instructs property owners to "meet but not exceed" defensible space requirements within the wildlife corridor, in order to maintain wildlife habitat while maximizing fire safety.

Prohibits all outdoor cats and "restricts off-leash dogs and other pets to private fenced yards and designated areas."

Details fence construction standards in the open space areas to assure wildlife permeability.

Retains mature healthy trees on the campus and strongly encourages native plant species in all landscaping.

Applies "Dark Sky" standards across the whole property, and allows no lights at all into the wildlife corridor or riparian areas.
Lets builders "unbundle" parking costs from rent, so residents can choose whether to pay for parking or not. Only one protected, assigned space is provided for single-family homes.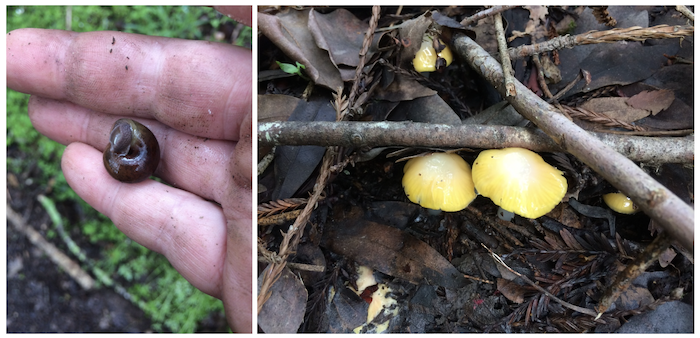 Critically endangered Sonoma Shoulderband Snail (left) and endangered Golden-Gilled Waxy Cap (right) spotted by observers on the SDC campus and verified by experts on the iNaturalist platform.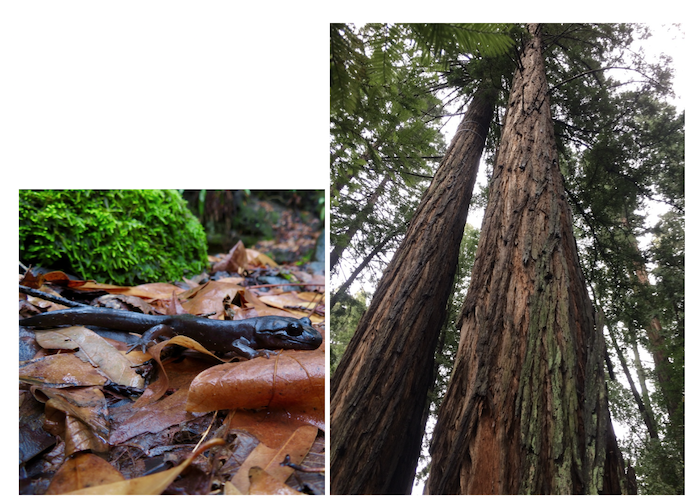 California Giant Salamander (a species of special concern) and Coast Redwood observed on the SDC campus and verified by experts on the iNaturalist platform.
While the SDC Plan has made efforts to incorporate several of the community's concerns, there's more to be done. We urge readers to help Sonoma Ecology Center advocate for the following:
An outright prohibition on roads through the eastern open space area, because of the presence of sensitive species and wetlands, unless the road is unpaved, unlighted, and used only for emergencies. Some sections of the current Plan allow a permanent road, and other sections state that such a road should be "explored."

An outright prohibition of trails in the narrowest part of the wildlife corridor and creek corridors. The Plan currently still allows "limited trails/paths" in these critical areas.

More careful design of the "multi-use creek trail running parallel to Sonoma Creek," in order to not deter wildlife use of the riparian area and Sonoma Creek. The current location for this trail may be placed too close to Sonoma Creek. 

Guaranteed, frequent transit service (at least every 15 minutes during peak periods) so there's a practical alternative to vehicle travel, and to unlock substantial public funds for housing and amenities. This level of enforceable specificity would be necessary to mitigate Vehicle Miles Traveled and climate impacts.

More specific language for Policy 2-57, which limits the extent and intensity of agriculture in the open space areas. The latest policy is encouraging but vague, and may be contradicted by language elsewhere.