Heirloom Tomato & Melon Gazpacho with Stone Fruit Gremolata, Cilantro Crema & Toasted Sesame Seeds
SEC Victory Gardens continue to produce fruits and vegetables throughout Sonoma Valley. One of our favorite local chefs, Kyle Kuklewski, has created a dynamic gazpacho recipe using many ingredients that you can harvest yourself, or find at the Saturday morning Harvest Market at

Sonoma Garden Park

.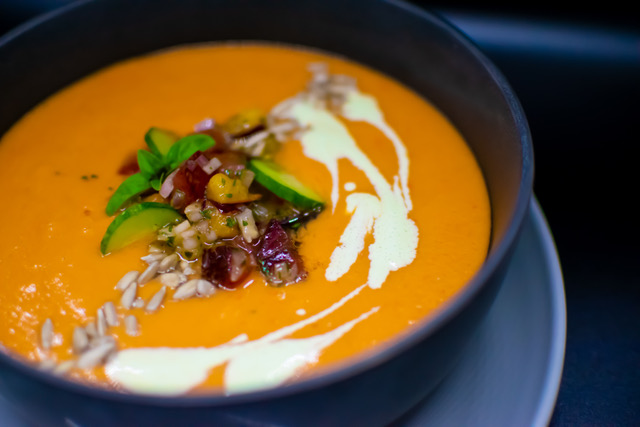 Ingredients:
Gazpacho:
8 heirloom tomatoes, ripe
1 small cantaloupe, ripe, skin peeled and seeds removed
1 mini watermelon, seedless, skin peeled
2 red bell peppers, white pith and stem removed, deseeded
1 jalapeno, white pith and stem removed, deseeded
1 shallot, thinly sliced
2 cloves garlic, smashed
3 lemon cucumbers or 1 small English cucumber, peeled, ½ inch slices
12 sweet Italian basil leaves
2 lemons, zest and juice
½ cup plum wine
¼ cup rice wine vinegar
1 cup olive oil
Salt, pepper, honey to taste
Gremolata:
1 plum, pit removed, ¼ inch dice
1 nectarine, pit removed, ¼ inch dice
½ small shallot, finely chopped
½ bulb fennel, finely chopped
2 stems tarragon, leaves removed and finely chopped
6 stems parsley, leaves removed and finely chopped
1 lemon, juice and zest
2 tbsp olive oil
Crema/Sunflower:
¼ cup sour cream
½ bu cilantro, stems removed
1 lime, zest and juice
Salt to taste
¼ cup sunflower seeds, toasted
Method:
Gazpacho:
After all fruits & vegetables have been cleaned, peeled, and deseeded, dice them into a ½ inch dice. Place all ingredients in a bowl and allow to marinade for 15-20 minutes, being sure to season with salt and pepper. The salt will help release the moisture in the ingredients. Once marinated, blend until completely smooth in a food processor or blender. Check for acid, salt, and sweetness at the end and adjust as needed. Chill before serving.
Gremolata:
Place all ingredients in a bowl and allow ingredients to marry. Check seasoning before serving.
Crema/Sunflower:
In a food processor, combine all ingredients (except sunflower seeds) and puree until smooth and you have a tasty green puree. Check for seasoning.
To serve:
Pour gazpacho in base of place, garnish with gremolata, crema and sunflower seeds.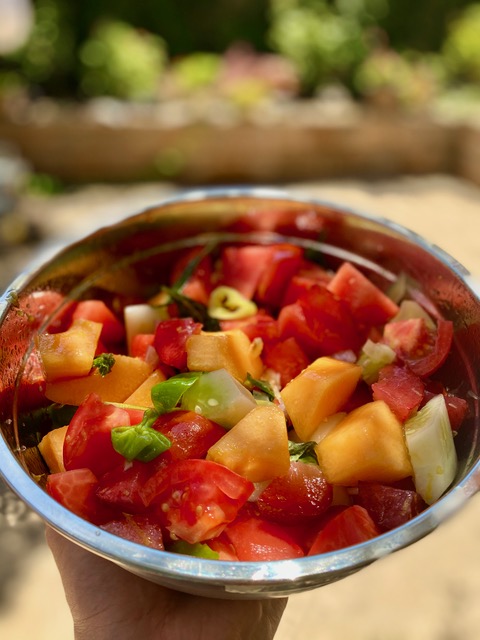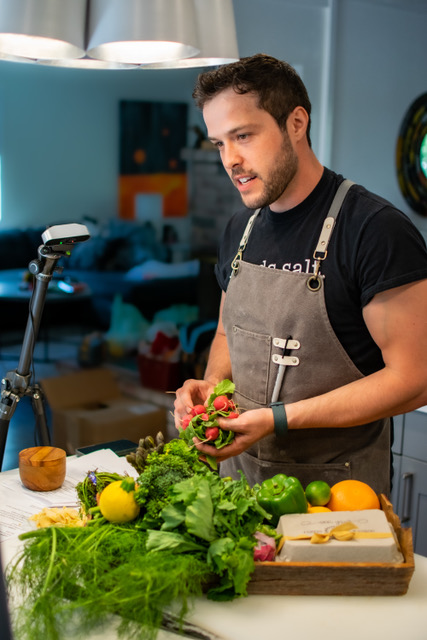 "Mother Nature is the true artist; the chef is merely the technician." 

-Marco Pierre White
Chef Kyle works with local farms and wineries that practice organic to sustainable processes that help rejuvenate the land we live in and also nourish our community through the healthiest of product and commerce.

Learn mor

e about what he has to offer.