Hikers traversing our Creekside Nature Trail can enjoy views of a beautiful cherry plum tree that bursts into a beautiful bloom of pink flowers in spring, a panoramic view of Sugarloaf Ridge, and Hood Mountain to the West. As the name suggests, the trail passes by the calming Sonoma Creek next to our campgrounds. What many hikers might not know is that our 0.9-mile Creekside Nature Trail was built to be ADA-compliant. The start and end of the trail — from the main day-use parking lot to the White Barn — both have van-accessible ADA parking.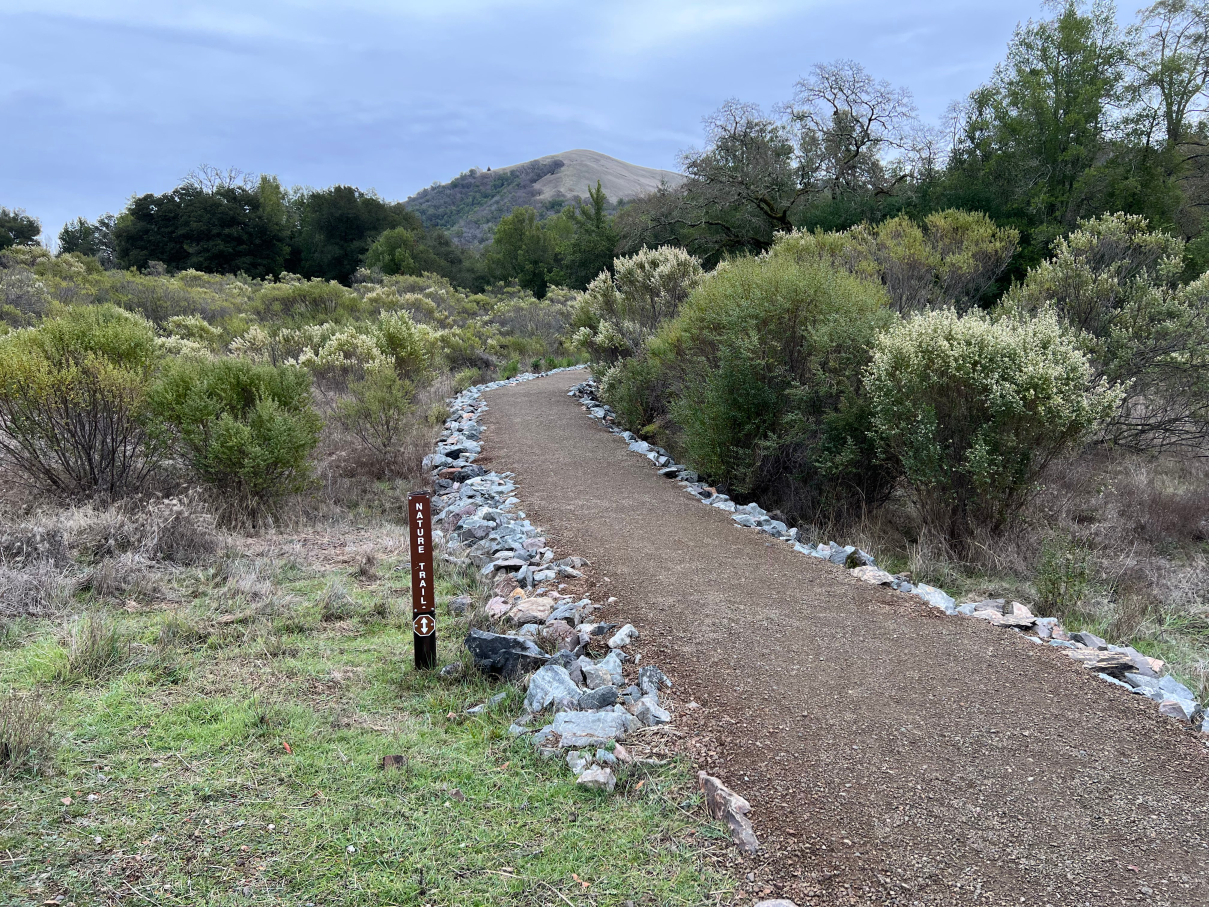 Our 0.9-mile Creekside Nature Trail was built to be ADA-compliant.
Last year, we were awarded Park Partner of the Year at the California League of Park Associations (CALPA) conference in recognition of our innovative and inclusive programming, particularly our Limited Mobility events and our Senderos Naturales Spanish Language events. The installation of the Creekside Nature Trail is one example of such efforts.
These successes notwithstanding, the community at Sugarloaf, which comprises of staff, volunteers, and visitors understands that there is more to be done to make Sugarloaf a place that truly serves the diverse needs of those who frequent our park.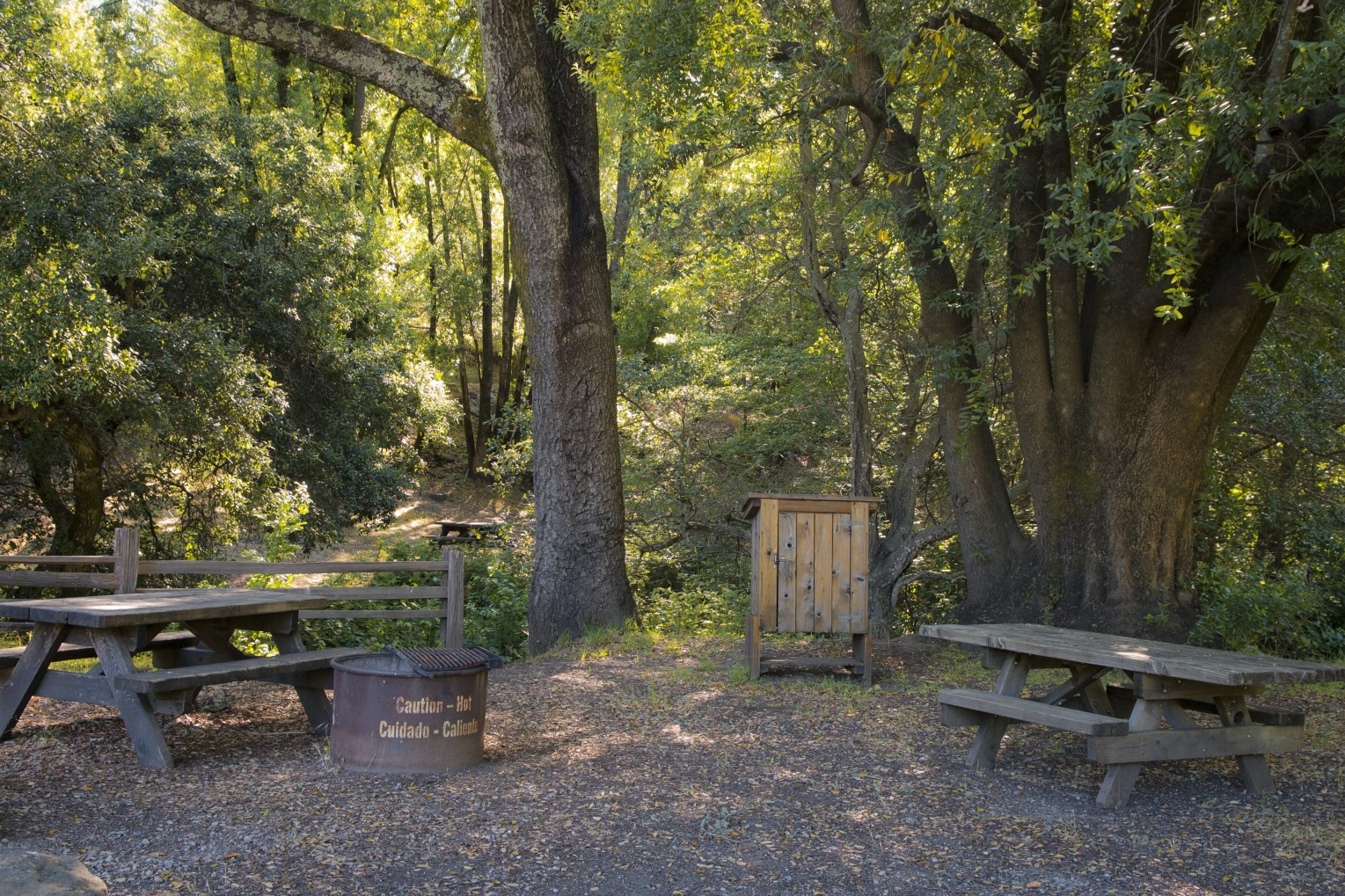 Campsite 6, one of our two wheelchair-accessible campsites. Wheelchair users who wish to camp at Sugarloaf may do so at our 2 wheelchair-accessible campsites, with accessible restrooms, showers, campfire pits, and a variety of wheelchair seating areas. Campers can book day-of or reserve campsites in advance through reservecalifornia.com.
Ongoing efforts to make Sugarloaf more accessible have been a collaborative endeavor between Sugarloaf staff and the community we serve. Judith Smith, a former UC California Naturalist student who uses a power wheelchair, fell in love with Sugarloaf after visiting the park during class field trips. She wanted to find ways to make the park more accessible for people who use wheelchairs. Together with Bonnie Lewkowicz, Founder and Director of Access Northern California and long-time disability rights advocate, they offered suggestions to Sugarloaf staff on how to improve the accessibility of the park.
"A lot of what we suggested were things that the park can implement relatively quickly," says Bonnie, who also uses a power wheelchair. Replicating signage of each trail's average slope and trail width, such as what's currently available for the Creekside Nature trail, gives each visitor more information on whether they should attempt the trail, according to Bonnie. Other recommendations by Judy and Bonnie include making sure that volunteers who work at the kiosk know the best paths for those with limited mobility to get from place to place in the park and smoothing the ground surfaces of certain areas.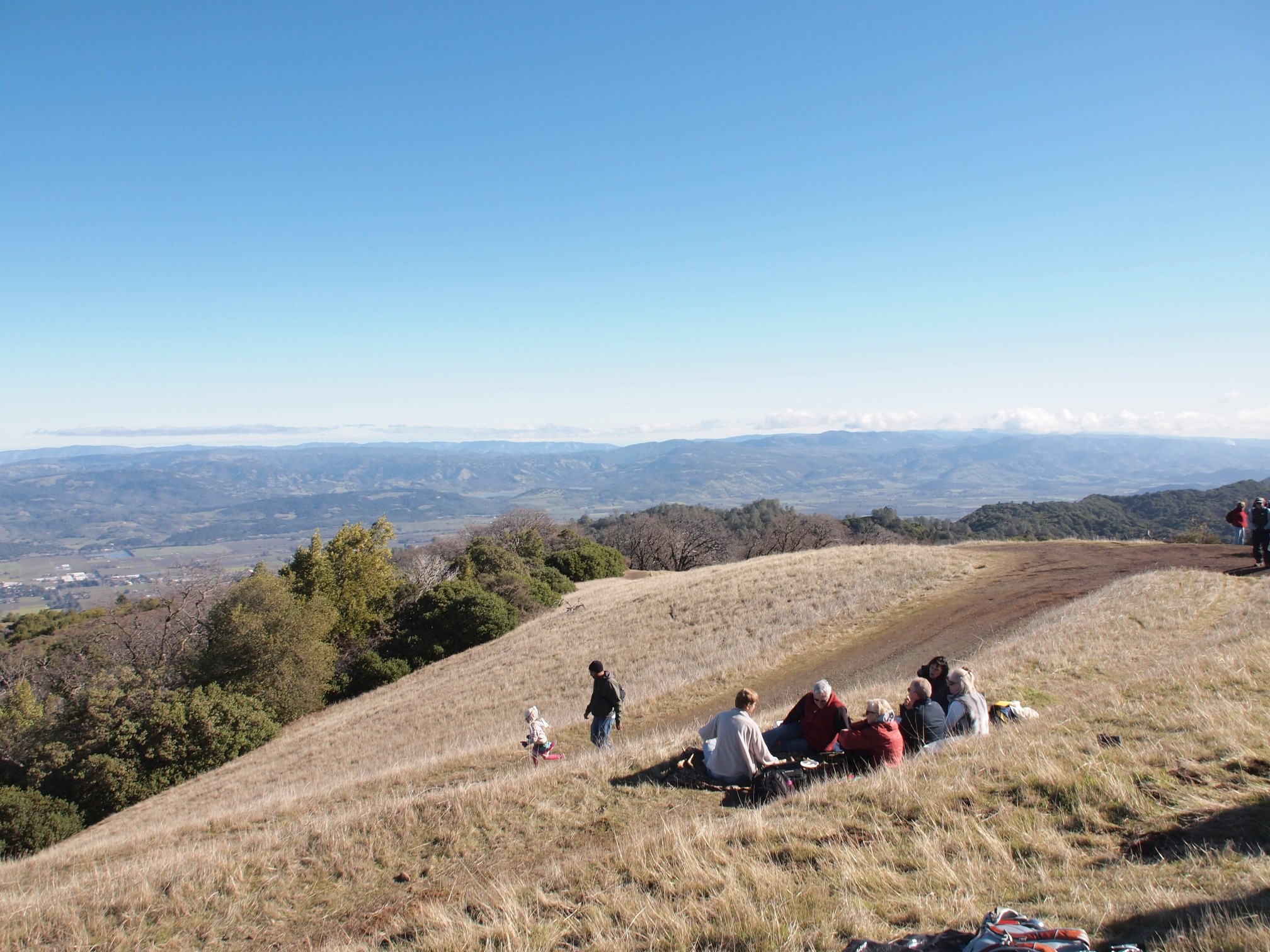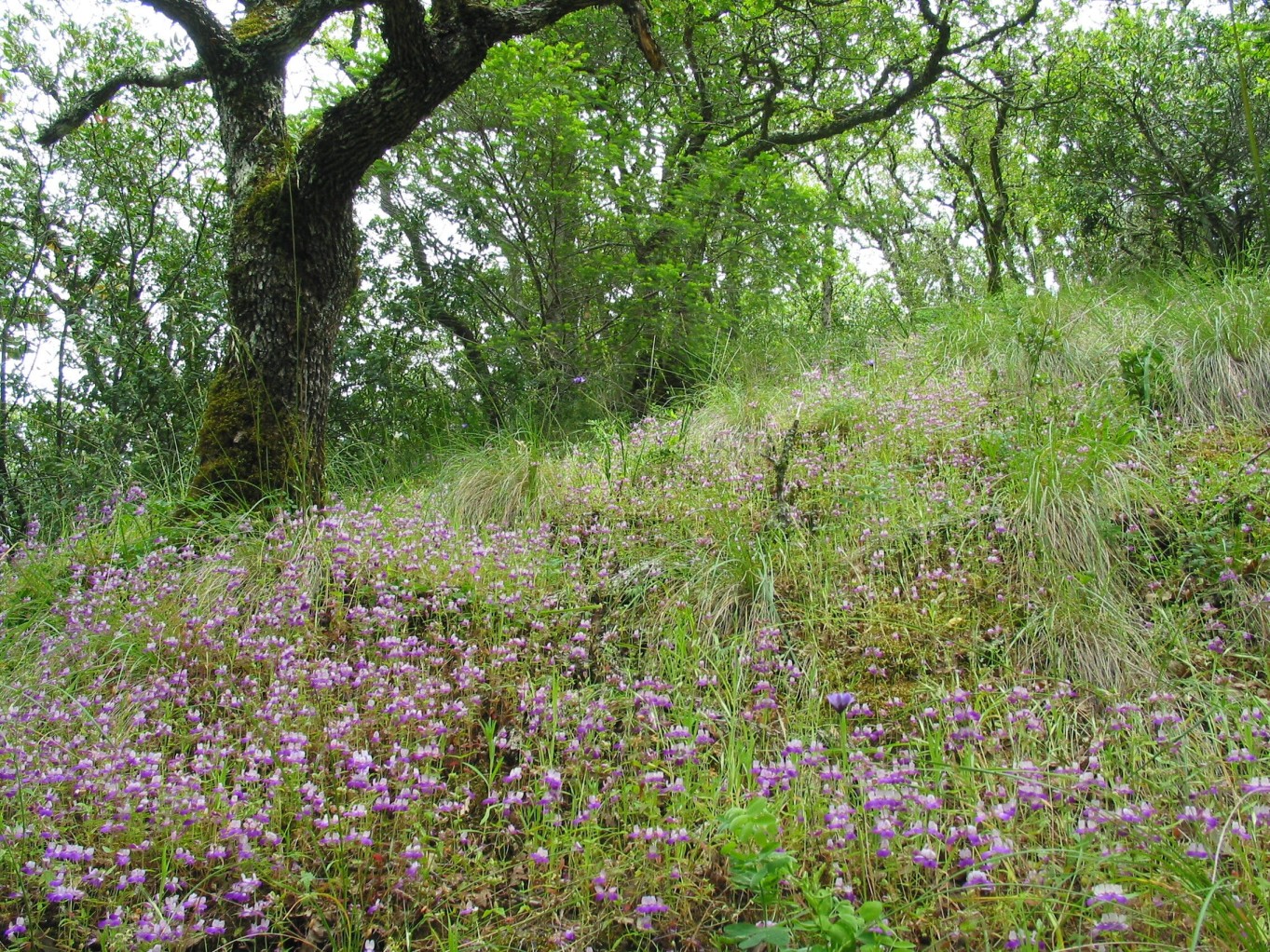 Hillside Trail at Sugarloaf Ridge State Park. The Meadow-Hillside Loop is a 2-mile hike that starts at the Robert Ferguson Observatory. 
"I grew up in the mountains. I love trails that are accidentally accessible, and Sugarloaf is full of trails like these. Bonnie and I hiked the Hillside trail all the way up until it goes into a steeper vein. There are other ways to explore sugarloaf that are not through the ADA trail," says Judy.
Our Meadow Trail, while not considered an ADA trail, is mostly gravel-free and is often passable by those who use wheelchairs for approximately 0.75 mile. This hike can be accessed through the White Barn parking lot and the Robert Ferguson Observatory.
How to make transportation up to the park for people with limited mobility in the first place remains a challenge. "Transportation is a tricky one. It's an expensive one. Probably one of the biggest barriers to disabled people being able to participate. It's not an easy, quick fix," says Judy. Even so, Bonnie is optimistic about the efforts that are currently underway. "I'd say that the biggest asset the park has is the willingness to look at this issue and make changes," says Bonnie.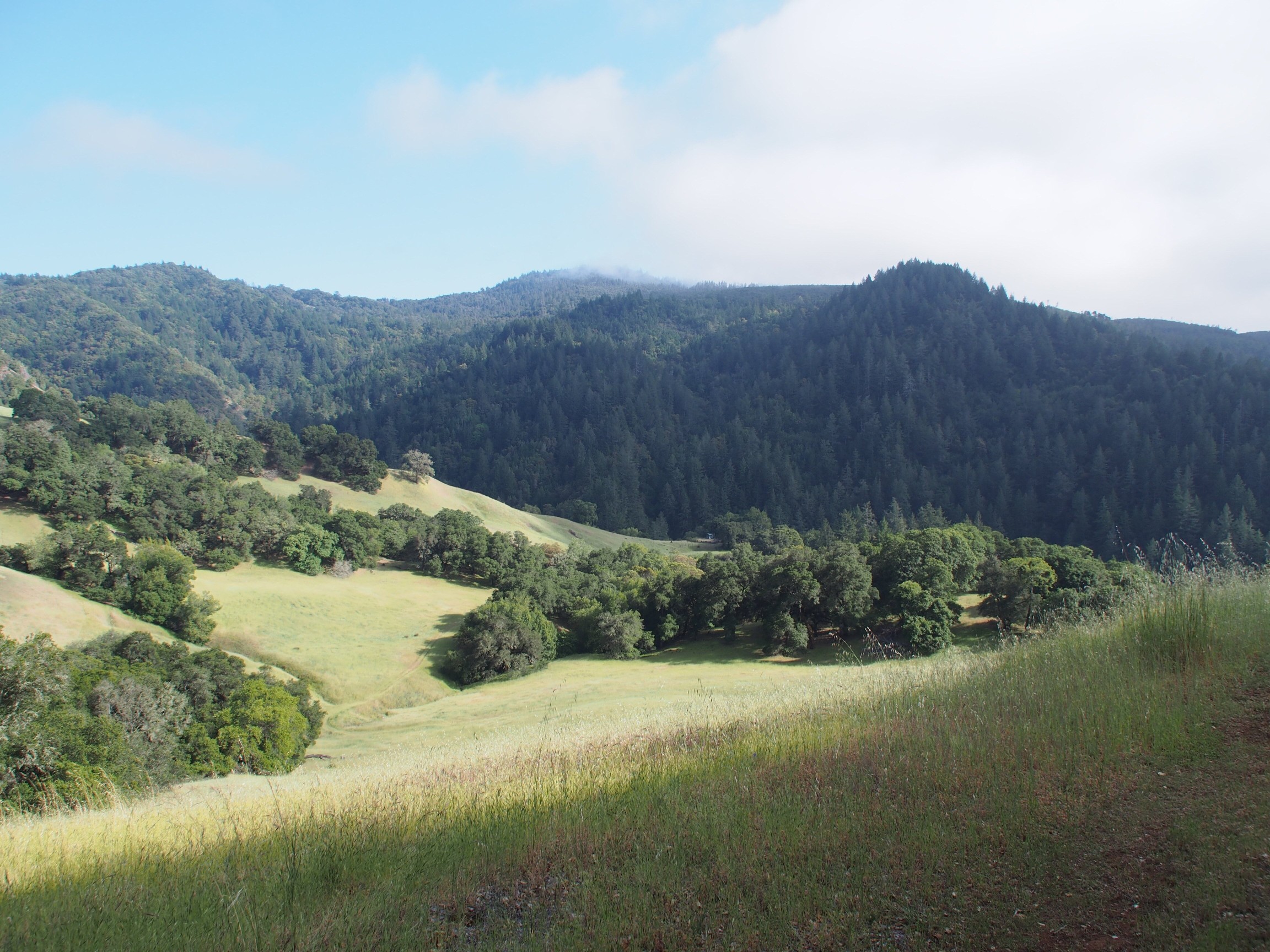 View from upper Meadow Trail.
Using a grant from the National Environmental Education Foundation, Sugarloaf staff are working with Judy and Bonnie to assess the conditions of the park and create a plan on how we can make the park more accessible for hikers with limited mobility.
Dr. Dan Levitis, our resident Ph.D. biologist and zoologist, who plays a leading role in pushing ahead accessibility projects at Sugarloaf is appreciative of the feedback we are getting from the community. "The disability community has told us clearly that they want more information available on the park's trails and facilities so that each person can make their own informed decisions about where in the park to go. We have the ADA-compliant Creekside trail, which is great, but that doesn't mean the rest of the park is closed to people with access challenges," Dr. Levitis says. On each hiking event listed on Sugarloaf's website, we have started adding an "Ease of Access" note that describes how steep and wheelchair-accessible the trail is so that attendees can decide for themselves whether they would like to participate.
"I am working with Jack Hines on a spreadsheet on the length, steepness, surface, etc. of every trail, along with a description of each trail and numbers on the total climb. We are working to make as much detailed information as possible widely available, and to listen to the community about what small changes we might be able to make that could make a big difference in inclusion," continues Dr. Levitis.
We are also currently implementing a project to make the Community Science office, including making the door to the office wider and adding a flatter ramp to make it easier for wheelchair users to enter. Bruce Hall, our long-time maintenance staffer, has drawn up a plan for this project and we are now only awaiting approval from California State Parks. We are also reorganizing the displays and shelves in the Visitor Center to make it as easy as possible for those with mobility challenges to navigate.
While these efforts are underway, the Sugarloaf volunteers are making our current infrastructure available to more people. This often means more tailored programming and communications.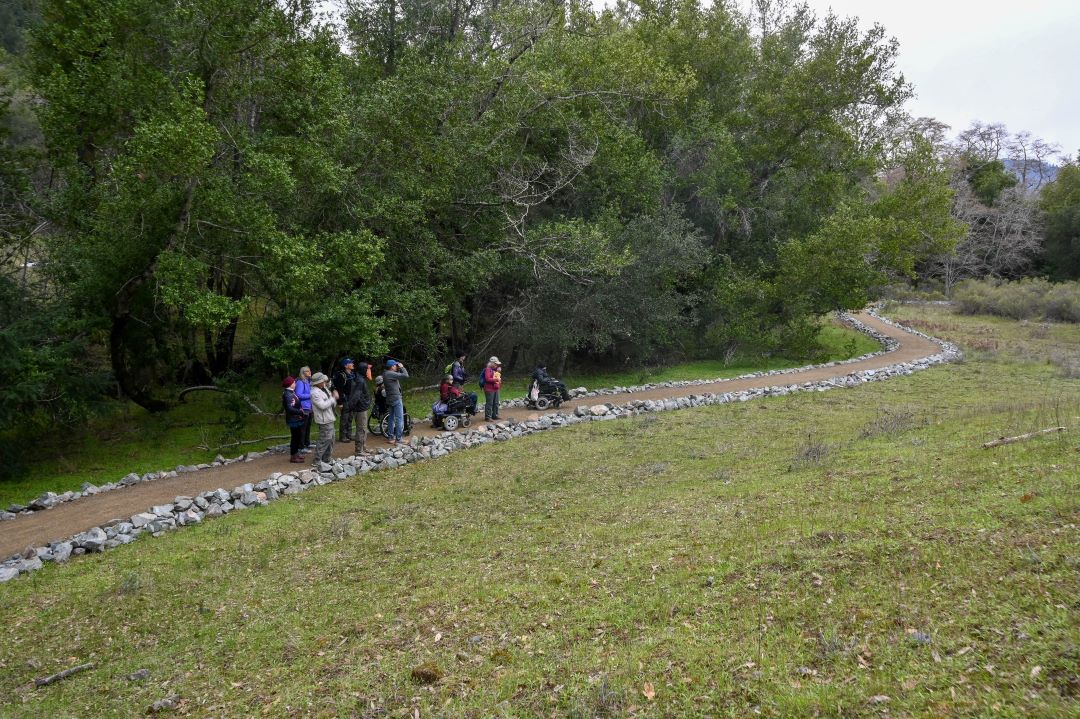 Hikers participating in a Limited Mobility Dusk Birding event at Creekside Nature Trail.
Judy Armstrong, a former student of SEC's California Naturalist course who came to Sugarloaf on field trips, came up with the idea of leading Slow Journeys, a series of interactive outings that are suitable for participants who use strollers, walkers, wheelchairs, canes. Taking place at Sugarloaf's campground loop with less than 5 degrees elevation, participants will get the chance to taste a Douglas Fir needle and California Laurel leaf and take frequent 5-10 minutes of breaks to participate in nature journaling, sketching for kids, or photography.
"What's extra special about Sugarloaf is that the park's accessible trails (Meadow, Nature, and Creekside) run through beautiful, wild spots that are full of biodiversity. The Limited-Mobility Bird Walks, Hikes, and the Slow Journeys can give people time to enjoy nature at a slower pace in a group setting, with no pressure," says Judy Armstrong. 
With future funding, designing a more comprehensive plan on how we can make this park more accessible to those of diverse needs can become more of a reality, "While our partners at State Parks are fully supportive of efforts to make Sugarloaf more accessible, there is required planning and permitted that is quite expensive. Making significant changes to the park's trail network for accessibility reasons would require having a new, approved trails plan that undergoes CEQA and geological review, costing at least $100,000. With additional funding, we would be so excited to work with consultants and artists to develop auditory and tactile interpretive materials, which is not covered under our current grant," Dr. Dan Levitis.