This past month, our Research team expanded on a system to monitor water temperatures throughout Sonoma Creek and its tributaries, giving us important new data on the watershed's overall health.
Responding to a need for more complete data on temperatures in the watershed, our team deployed 14 waterproof temperature loggers in the downstream reaches of Sonoma Creek and its major tributaries—perennial streams such as Stuart Creek that are "known to harbor some level of known or potential steelhead," said Senior Scientist and Research Program Manager Steven Lee.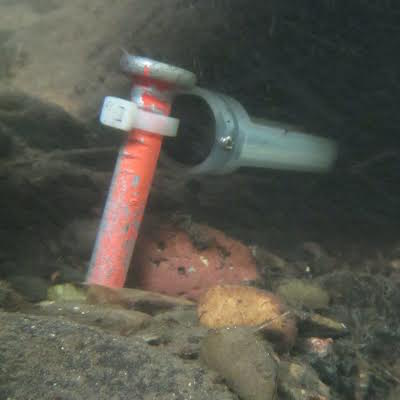 The 14 new loggers will record water temperature every 15 minutes throughout the dry season (the sensors are retrieved before winter storms can wash them away). They add to a series of 11 stream gauges already deployed by Sonoma Ecology Center in upper Sonoma Creek from SDC to Kenwood, which also collect water temperature data every 15 minutes—for a total of 25 sites monitored.
"The overall goal of this work is to better understand how water temperature changes throughout the watershed during the dry season," Steve said, adding that "juvenile steelhead are dependent on favorable water flow and cooler temperatures to survive throughout the critical months of summer and fall. This will help to identify sites where habitat restoration and restoration of stream flows would best contribute to the recovery of this species."
The work is made possible using remaining funds from our EPA-funded Clean Streams of Southern Sonoma County grant, a collaboration with Permit Sonoma.