Are you a landowner in the upper Nathanson Creek Watershed? If so we'd love to talk with you about stormwater—specifically, about potential stormwater projects that can help us better manage water when it finally arrives. (Click map to enlarge.)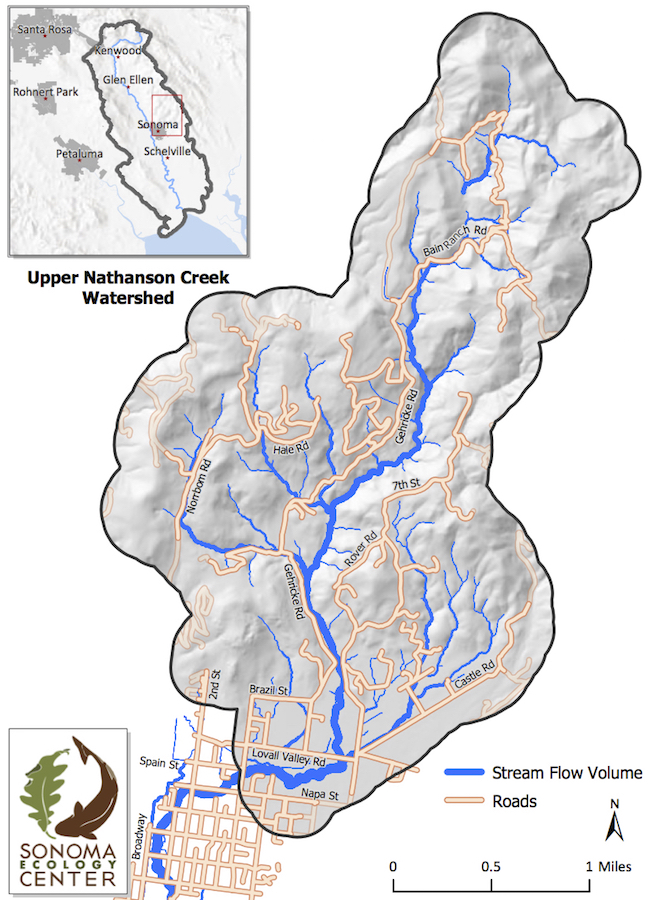 Fire season ends when the rains begin—and that can bring flooding, erosion, and missed opportunities to store water for later. At Sonoma Ecology Center we're already thinking ahead to winter rains, and working on projects to retain more water on the land and reduce flooding.
That would be the land within the Nathanson Creek Watershed, an area that is susceptible to flooding. Whenever there is heavy rain over the Mayacama Mountains, stormwater overflows Nathanson Creek in the City of Sonoma and other low-lying areas down to Schellville, causing damage to private property and public infrastructure.
To address this problem, we are working with Sonoma Water to locate lands in the upper Nathanson Creek Watershed—north and northeast of Sonoma—where stormwater can be detained for hours, days or weeks in order to reduce flooding and recharge aquifers. We're looking for landowners who may be interested in a free consultation on any of the following:
Swales or other topographic alterations to allow water diversion
Stormwater detention or rainwater storage projects
Forecast-informed pond management
If you are a landowner interested in a free consultation on possible stormwater projects on your property, please send us an email and we'll arrange a brief in-person (but socially distanced) meeting to discuss it. (Or if you know someone else who may be interested, please forward this message to them.) Send your email to SEC Environmental Planner Minona Heaviland at minona@sonomaecologycenter.org.
More information on stormwater management projects is available in this excellent pdf guide by the Sonoma County Resource Conservation District: Slow It. Spread It. Sink It. Store It!