Every day, we are thinking about Sonoma Valley and our community. As we all face unprecedented challenges in this time of the coronavirus pandemic, we want to know what is important to you. Please tell us what information you'd most like to receive from Sonoma Ecology Center.
Our Response
In response to the COVID-19 crisis, our dedicated staff is focused on coordinating efforts with local government and fellow nonprofits so our community receives the support it needs.
We launched SonomaValleyVolunteers.org to mobilize a new volunteer force in collaboration with nonprofits, businesses and local government to help meet the emerging needs of our community.

Our Education team is bringing a virtual version of our K-6 Watershed Education Program with a bi-weekly Science at Home Online Series. By innovating programs in this way, we can continue to foster a love for the environment in the next generation.

We are supporting families both at home and outdoors, and launching social media campaigns that inspire people to stay connected to nature.

We are maintaining the public parks we manage—Sugarloaf Ridge State Park, Sonoma Garden Park, Nathanson Creek Preserve, Sonoma Overlook Trail and Montini Open Space Preserve, so our community can safely enjoy these wonderful open spaces.
Resources
Ways to Get Outside
Sonoma Valley residents are still allowed to go outside, and we encourage people to do so regularly for fresh air and exercise (while always following social distancing guidelines). We will continue to update you with ways you can enjoy Sonoma Valley's beautiful outdoors, such as:
Buy

your Sugarloaf Ridge State Park day or annual pass online ahead of time to minimze exposure at the park.

Paved paths such as Sonoma Bike Path and Sonoma City Trail remain open at this time for pedestrian use only (no bicycles).
Buy fresh, local produce at the Weekly Farmer and Agricultural – Only Tuesday Market from 3:00-6:00 PM, in the Sonoma Veterans Memorial Hall parking lot and Friday's Sonoma Valley Certified Farmers' Market
Now is the time for weeding, mowing, trimming and planting (but please leave

piles of brush

where they are until September, as native birds are nesting in them).
Plant pollinator-friendly natives such as hummingbird sage, California fuchsia, sticky monkeyflower, deer grass and milkweed.
Make your garden more fire-smart, water-wise and wildlife-friendly using tips from our 

brochure
Ways to Volunteer
People over 60 can still contribute from home, and people under 60 can help out in the community while observing social distancing protocols. By volunteering through Sonoma Valley Volunteers, needs and resources can be met safely and efficiently for all. Click here to find volunteer opportunities.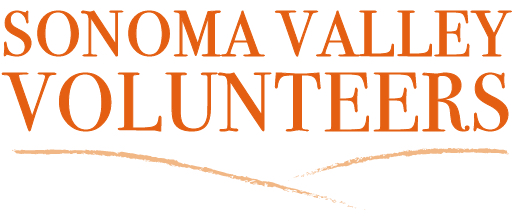 The majority of Sonoma Valley's legendary volunteer force is 60+. Meanwhile, the COVID-19 pandemic is creating unprecedented community needs. That's why we created Sonoma Valley Volunteers, designed to connect local volunteer opportunities with a much-needed volunteer force.
Shop Local
Here are ways you can be supporting local businesses!
Order from local restaurants offering curbside pickup
Support businesses that are able to stay open (sonomatogo.com)

Purchase a gift card from local businesses for future use

Leave a review of local businesses on social platforms
Eat Fresh
Here are a few places to find fresh locally sourced produce in Sonoma Valley. Special thanks to those of you who contributed to this list! (Have more suggestions? Let us know.)
Be Safe Outdoors
We ask everyone to follow social distancing guidelines whenever you leave the house.
• Avoid drinking fountains (bring your own water)
• Keep a distance of at least 6 feet with anyone not in your immediate household
• Carry a face mask and put it on if necessary (for example, when passing someone on a trail closer than 6 feet)
•  Stay home if you're sick
•  Buy your Sugarloaf Ridge State Park ahead of time
Stay in Touch
As we all cope with these new unprecedented challenges, we invite you to stay connected with us.