$50,000 Challenge Gift
A generous Sonoma Valley donor has offered a $50,000 challenge gift to Sustainable Sonoma. Right now, donors can double their impact when they support the broadest coalition in Sonoma Valley.

Sustainable Sonoma brings together an unprecedented coalition of local leaders to tackle the big challenges our community faces like affordability, housing, sustainable tourism, inequality, and others.
This $50,000 challenge gift comes at a pivotal time. Sustainable Sonoma has completed 12 months of preparatory work and 7 months of community listening sessions. According to our analysis of over 1,600 comments about the future of Sonoma Valley collected through 20 listening sessions over a period of 7 months, what people want most is more housing of many types and prices. People want to see a wider variety of housing options, that can be afforded by people who work in the Valley, at all income levels. Read the full report here.
These findings informed the Sustainable Sonoma Council when they chose to focus on the issue of "housing affordability" over the next year. To take the next steps towards action priorities around housing affordability, Sustainable Sonoma needs additional resources. Sonoma Ecology Center houses and staffs Sustainable Sonoma, but like the problems Sustainable Sonoma is designed to address, one organization or cannot succeed alone. Support from across the community is needed.
People who want Sustainable Sonoma's approach to succeed can make a difference right now by seeing their tax-deductible donation to Sustainable Sonoma double in size.
Support Sustainable Sonoma
Sustainable Sonoma is fiscally sponsored by the Sonoma Ecology Center, a California non-profit 501(c)(3) public benefit corporation qualified to receive tax-deductible donations. Its tax ID number is #94-3136500. Your contribution is tax-deductible to the extent allowed by law.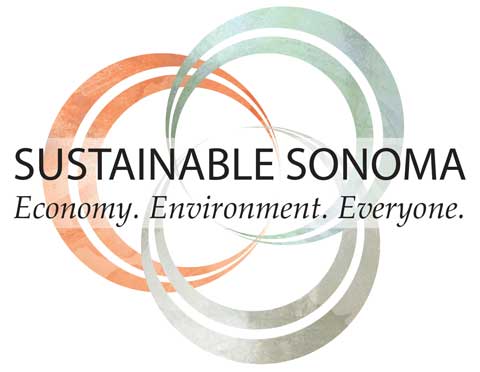 Sustainable Sonoma is a forum where a diverse group of Sonoma Valley people—businesses, environment, social justice, nonprofits, and government—can take action on solutions to our community's biggest challenges. It is carefully designed to unite our community's diverse views and voices. The result is collective action to address our chronic problems and protect what we love about Sonoma Valley.
To learn more, visit the website or contact Kim Jones, Sustainable Sonoma Coordinator at kim@sustainablesonoma.net.