Sonoma Ecology Center Science Camps 2022 | Sonoma Ecology Center campamentos de ciencia 2022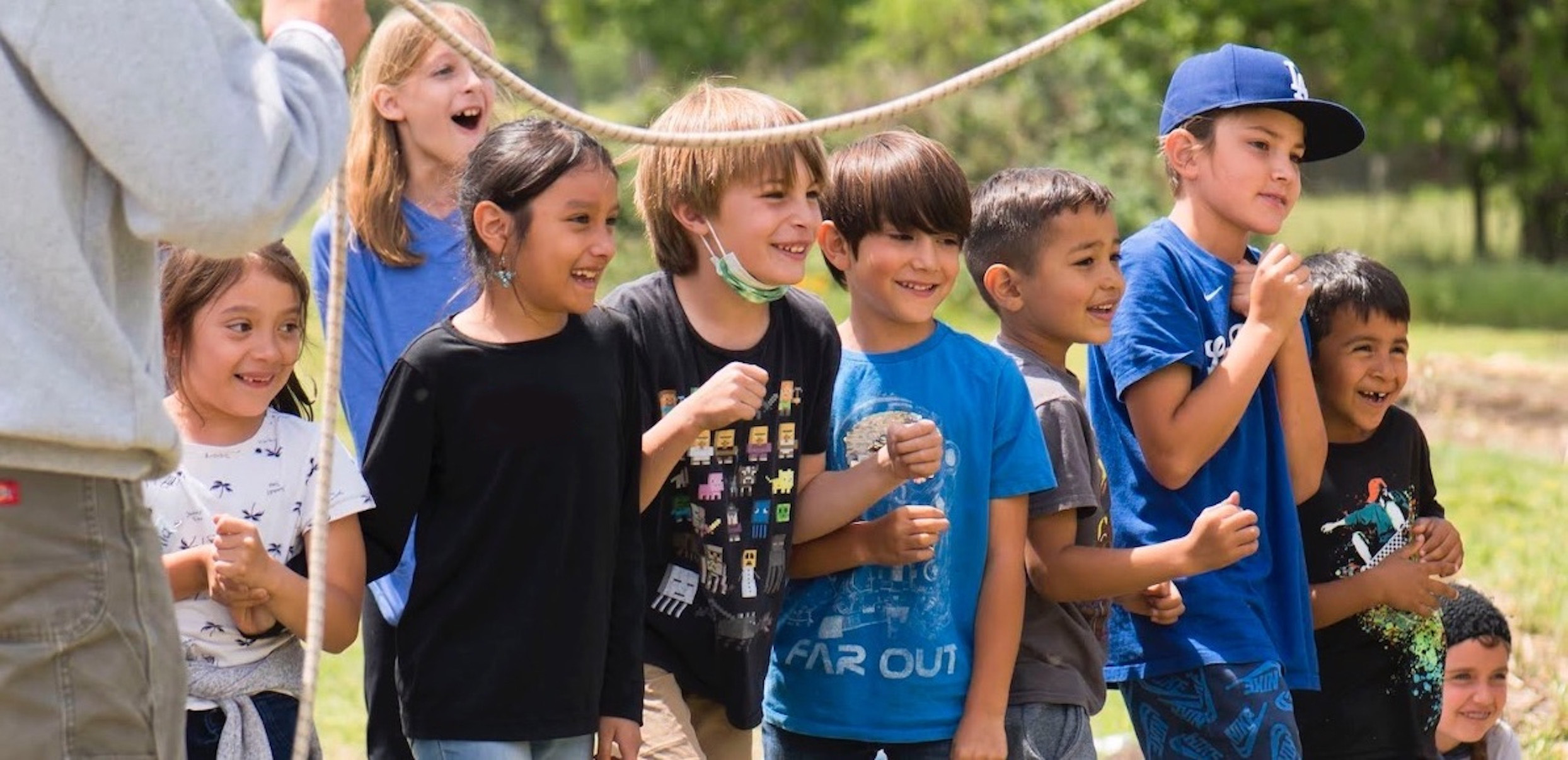 2023 Spring Break Camp!
Spring Garden and Woodland Science Camp at Sonoma Garden Park
[Español abajo]
Join the Sonoma Ecology Center Earthlings for our low-cost spring break in the oak woodland and garden settings on March 13-17 or April 10-14 (Monday-Friday, 9:00 am-3:00 pm). Together, ages 7-11 will grow as junior naturalists and agriculturists. $100 per child, with scholarships available. 
Let's play games, plant crops, draw and journal nature observations, conduct experiments, and craft artwork and culinary concoctions. This week will provide much-needed time to immerse in the local habitat while enjoying friends.
On the first day, we will tour the 6-acre farm and straw bale barn, play in the dirt, and on the new children's nature play area (!) while studying soil and building compost. Day 2 is focussed on pollinators, from a hedgerow game to the bee and butterfly garden hunts. On Day 3, we will branch out into the oak woodlands to observe birds and wildlife and create crafts. Day 4 is centered around resources and caring for the planet, enjoying culinary delights, harvesting, preparing and creating new recipes. Day 5 will be open for free play, recaps of the week, and debriefs on the experience.
Please note that this event will not have Spanish-English bilingual support. 
This Spring Break Camp is created based on our Growing Discovery, Wildlife Defenders, and Water Wonders programs, which include activities on sustainability and climate.
For questions, please contact Tony Passantino at Tony@sonomaecologycenter.org.
Spring Garden y Woodland Science Camp en Sonoma Garden Park
Únete a los Earthlings del Centro de Ecología de Sonoma para vacaciones de primavera de bajo costo en el bosque de robles y los jardines de Sonoma Garden Park del 13 al 17 de marzo o del 10 al 14 de abril (lunes a viernes de 9:00 am a 3:00 pm). Juntos, de 7 a 11 años, crecerán como jóvenes naturalistas y agricultores. Jugaremos, plantaremos cultivos, dibujaremos y registraremos observaciones de la naturaleza, realizaremos experimentos y elaboraremos obras de arte y brebajes culinarios. Esta semana les brindará el tiempo tan necesario para sumergirse en el hábitat local mientras disfrutan de sus amigos. $100 por niño, con becas disponibles.
El primer día recorremos la granja de 6 acres y el granero de fardos de paja, jugaremos en la tierra y en la nueva área de juego natural para niños mientras estudiamos suelos y abono; el día 2 se centra en los polinizadores, desde un juego de setos hasta la caza de abejas y mariposas en el jardín; el día 3 nos adentramos en los bosques de robles para observar aves y vida silvestre y crear artesanías; el día 4 se centra en los recursos y el cuidado del planeta, disfrutando de delicias culinarias, cosechando, preparando y creando nuevas recetas.  El 5to día será libre para jugar, resumir la semana, y repasar información de la experiencia.
Por favor note que este evento no tendrá apoyo bilingüe. ¡Por favor comparte este evento!
Este campamento de vacaciones de primavera es basado en nuestros programas Creciendo descubrimientos, Defendedores de vida silvestre, y Maravillas acuáticas, los cuales incluyen actividades en sostenibilidad y clima.
Si tiene preguntas, póngase en contacto con Tony Passantino en tony@sonomaecologycenter.org. Para apoyo en español, póngase en contacto con Ivana at ivana@sonomaecologycenter.org. 
Science Camp Scholarships
If you are in need of financial assistance in order to participate in a Science Camp, please fill out and submit a scholarship application.
¡Hay becas disponibles para los campamentos de ciencia en el verano! Solicite una en este enlace.
Submitting an application does not guarantee a scholarship! Scholarships are awarded based on several factors including need and available funds/space. If you have been awarded a scholarship, we will notify you by phone or email immediately.
For information on how to apply, please contact Tony Passantino at 707-996-0712, ext. 124 or tony@sonomaecologycenter.org.
You can make a difference for local children and teens by sponsoring Science Camp Scholarships.